The Truth About Richard Ramirez's Childhood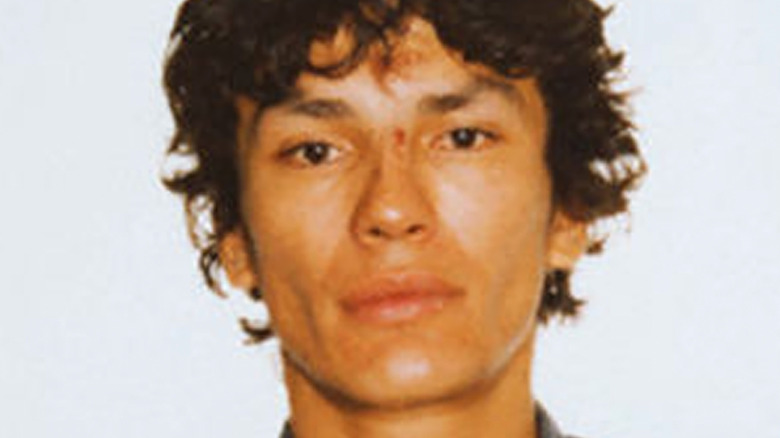 Michael Ochs Archives/Getty Images
During the summer of 1985, Richard Martinez, then 25, unleashed terror upon the residents of Los Angeles, Calif. and San Francisco, Calif. During those long, dark months, the Texas native killed at least 13 people and tortured and sexually assaulted several others during residential burglaries committed deep into the night. He became known for using a variety of weapons, beginning with handguns and knives, which later escalated to machetes, tire irons, and hammers, the Los Angeles Magazine described. 
Ramirez's crimes shocked the nation not only for how many he committed in a short amount of time, but also for his tendency to mutilate and sodomize the bodies of his victims, The New York Times noted. Ramirez, who became known as the Walk-In Killer, Valley Intruder and, more infamously, the Night Stalker, was also known for leaving Satanic symbols in his crime scenes and for not having a "type," attacking men, women, and children of different ages and backgrounds, per NYT. While he began the string of crimes in June of 1984 with the murder of 79-year-old Jennie Vincow, Ramirez remained in the shadows for nine months. In March 1985, he began his attacks again. 
In 1989, Ramirez received a death sentence after being convicted of 13 counts of murder, five counts of attempted murder, 11 sexual assaults, and 14 burglaries, per CNN (he died of lymphoma in 2013 at age 53). During the trial, considerable attention was brought to his personal life. Keep reading to learn about Ramirez's childhood.
Richard Ramirez was raised by a violent father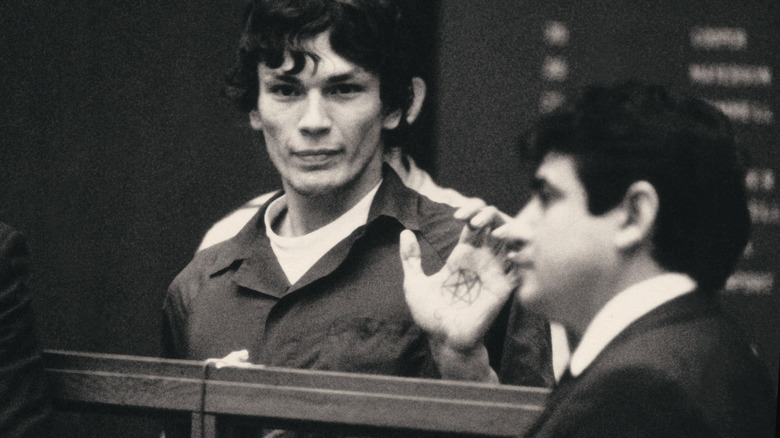 Netlfix
Born Ricardo Leyva Muñoz Ramirez in El Paso, Texas, Richard Ramirez was the son of Mexican immigrants, including a father who was said to be "physically abusive," according to CBS News. The youngest of five children, Ramirez often witnessed his father beat his older siblings when they got into trouble, especially for substance abuse, per Digital Spy. It wouldn't be long before Ramirez himself seeing the brunt of his father's beatings. According to The New York Times, Ramirez started sniffing glue when he was in the seventh grade. To escape his father's outbursts, he often opted to spend the night at local cemeteries. 
Ramirez, along with all his siblings, suffered from health issues, according to New York University's Jennifer Grise. The youngest Ramirez was diagnosed with temporal lobe epilepsy when he was in the fifth grade. One of the main hypotheses argues that the Ramirezes were victims of the long-term consequences of the federal government's testing of nuclear bombs in nearby New Mexico, per Grise. On the other hand, when Ramirez's mother was pregnant with him, she worked at a boot factory, which required her to handle pigments and chemicals.
Ramirez was also prone to accidents. The large scar he had on his forehead was caused by a dresser that fell on him when he was two, according to Distractify. Three years later, he was once again knocked unconscious when a swing hit his head. 
He had a close bond with a violent cousin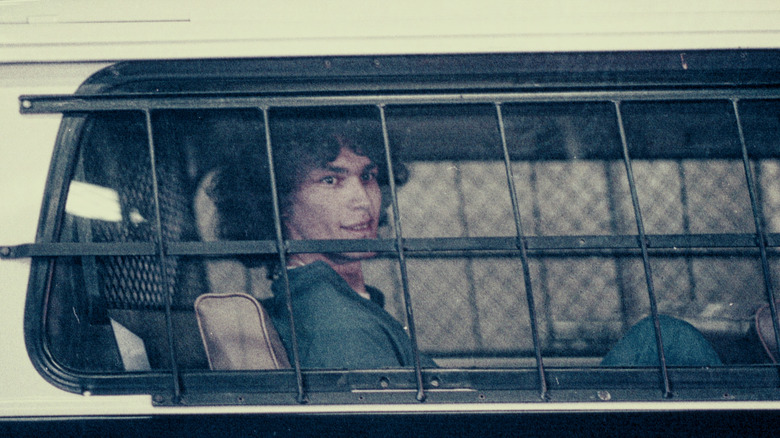 Netflix
As a teenager, Richard Ramirez spent a lot of time with his older cousin, Miguel "Mike" Ramirez, according to Philip Carlo's "The Night Stalker: The Life and Crimes of Richard Ramirez." Miguel was a decorated Green Beret veteran of the Vietnam War, but he was also a violent man who publicly displayed pride over having killed and assaulted Vietnamese civilians, according to Carlo's book. 
Richard and Miguel smoked marijuana together while the latter shared heinous details, including graphic photos, of his war activities. "All of [Richard's] older brothers were away from home, and Mike took it upon himself to show Richard the ways of the world — and the ways of war: how to fight to win, and how to protect himself. 'It's us,' he told Richard, 'the poor, the downtrodden, against them, the rich and influential,'" Carlo wrote. In 1973, Miguel was arrested for killing his wife, a crime Richard saw with his own eyes, per Carlo. 
Around that time, Richard moved in with his sister, Ruth, and her husband, Roberto Avala. But Avala was what Carlo described as "an obsessed Peeping Tom" who toured the neighborhood at night hoping to catch women undressing through windows — with Richard in tow.  While Richard undoubtedly had a difficult childhood, his experiences cannot be used to justify his actions. As New York University's Jennifer Grise argued, none of his siblings — who lived in the same home — grew up to be serial killers.
If you or someone you know is dealing with domestic abuse, you can call the National Domestic Violence Hotline at 1−800−799−7233. You can also find more information, resources, and support at their website.