Megyn Kelly's Podcast Just Got A Huge Upgrade
Shutterstock
We are about to hear about Megyn Kelly a whole lot more. The journalist has had many gigs in the industry, and she's been the center of plenty of controversy. Kelly was a longtime employee at Fox News, but opted to leave in 2017, per Business Insider. She made a move to NBC and told Ellen DeGeneres that she exited Fox after 12 years because of politics (ironically, enough). "I was never a political person, I wasn't raised in a political household, and it became clear to me it wasn't what I wanted to do, it's not who I am," she told the talk show host. "And then, Donald Trump has a way of clarifying one's life choices, and that was true for me, too."
In addition, Kelly said that she felt like she was in a snake pit during her primetime show. "That's how it felt. And I didn't want to be in the snake pit," Kelly said. "But it has a way of pulling you in, over and over and over. And then that becomes your life, and that's not the life I wanted."
She moved over to the fourth hour of "TODAY" but the stint was short-lived. The network announced that they would not be continuing with her hour in October 2018. Though she had her ups and downs with the network, she came under fire after defending "blackface" Halloween costumes, which seemed to be the nail in the coffin. Keep scrolling to see what's next for Kelly.
Megyn Kelly has a new deal with SiriusXM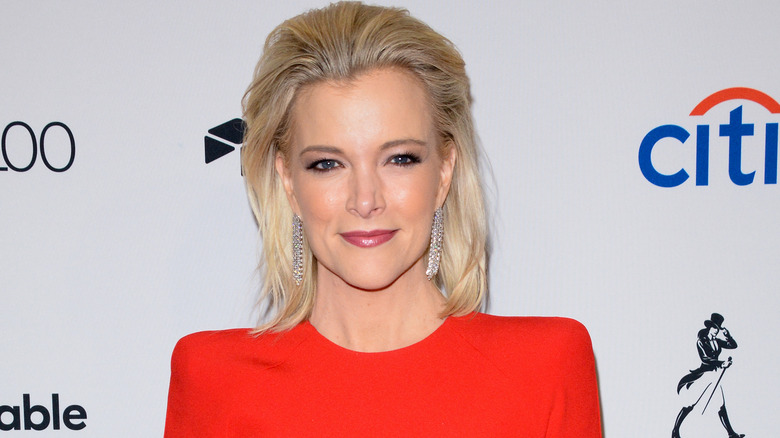 Shutterstock
Megyn Kelly is officially back — but in a different capacity. Rather than being in front of the camera, the star just inked a deal with SiriusXM for her podcast. According to People, Kelly's podcast airs just three times a week. Now, she will be on air five days a week on the Triumph channel, much like her stint on the 4th hour of "TODAY." 
The show will run for two hours daily, and Kelly shared that she's excited about having her platform again to use however she would like. "My deal with Sirius is, I can talk about whatever I want. I touch third rails for a living, by design. I'm not built that way: to avoid these things," she dished. "I want the fight. I enjoy discussion, fierce discussion and debate. I can't imagine giving that up again." 
Another thing that Kelly finds valuable about the show's nature is that she can talk with people at length, as she does not need to rush through a conversation. She did not specifically mention her time on "TODAY," but she seemed to have hinted at it. "So, yes, I wanted to talk about getting fired from the University, and he's been banned from YouTube for his vaccine talks. I really went hard on him," she shared about a recent chat with Evergreen State professor Brett Weinstein. As for Donald Trump as a guest? Kelly said she would "absolutely" welcome it.