What Ronan Farrow's Relationship With Woody Allen Is Like Today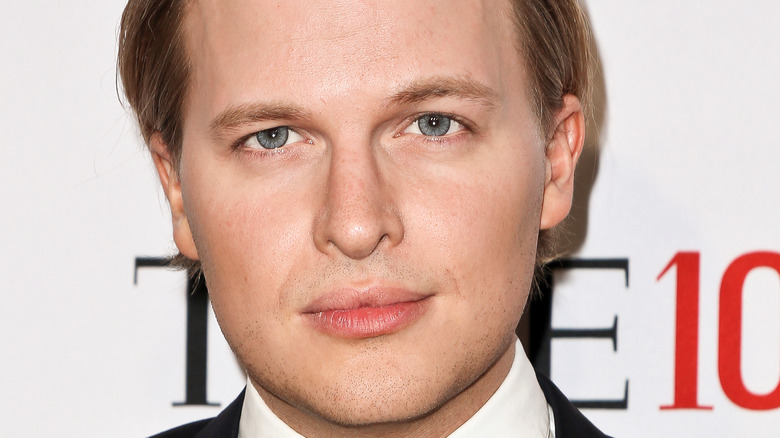 Shutterstock
The following article includes allegations of child abuse and sexual abuse.
There is probably no more fraught family dynamic in Hollywood than that of the Allen-Farrows. Woody Allen began dating Mia Farrow in the early 1980s. At the time, Farrow had several children of her own, and Allen wasn't interested in becoming a father. Fast forward a few years, and Allen adopted two of Farrow's kids, Dylan and Moses after the couple welcomed one of their own, Ronan. Then, a few years later, news broke that Allen was having an affair with one of Farrow's adoptive children, Soon-Yi Previn, who was just 21 at the time, per Vox.
Farrow and Allen broke up, and things got messy. Not long after the news about Soon-Yi broke, Farrow accused Allen of molesting their daughter Dylan. Allen has adamantly denied the allegations, claiming Farrow made them up to punish him for his relationship with Soon-Yi and prevent him from gaining custody of their three children. A team of professionals investigated the allegations, and Allen has never been charged, per The New York Times. The result was a split family, with some kids taking Allen's side and some taking Farrow's. Other than Mia, the most outspoken critic of Allen's has been his only biological child, Ronan.
Now a Pulitzer prize-winning journalist, Ronan has gone above and beyond to highlight Allen's guilt, even producing a successful HBO documentary series, released in 2021, called "Allen v. Farrow." Allen did not participate in the documentary, but it definitely reignited interest in the case. So, what is Ronan's relationship with his father like today? Here's what we know.
Woody Allen and Ronan Farrow don't get along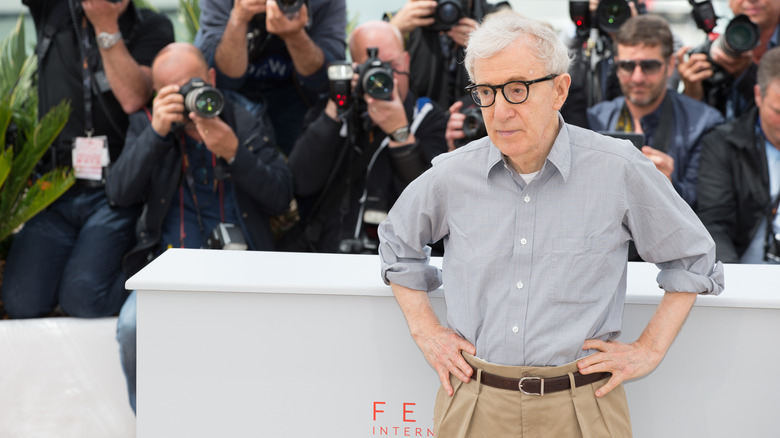 Shutterstock
If you're wondering if Woody Allen and his son Ronan Farrow are friends — or even talking — they most certainly are not. Farrow has always firmly sided with his mother and sister Dylan regarding Allen's alleged transgressions. Farrow has made no secret of his disdain for his father, often criticizing him publicly. After Allen's 2014 Golden Globes tribute Farrow tweeted: "Missed the Woody Allen tribute," he wrote, per CNN. "Did they put the part where a woman publicly confirmed he molested her at age 7 before or after Annie Hall?" So there's definitely bad blood.
Complicating the situation (as if it could be more complicated) are the continuing rumors that Farrow isn't Allen's child, but the love child of Mia Farrow and Frank Sinatra. Farrow was married to Sinatra before she met Allen, so the idea isn't completely out of the blue. Adding fuel to the rumors is that some people think Ronan looks a whole lot more like Sinatra than Allen, The Sun.
Paternity rumors aside, it is clear just how deeply Ronan believes in Allen's guilt. Shortly after releasing "Catch and Kill," Ronan publicly shamed the publisher for their plans to work with Allen on his memoir. "Obviously I can't in good conscience work with you any more," he wrote in an email to the head of the company, per The New York Times. "Imagine this were your sister."
If you or someone you know may be the victim of child abuse, please contact the Childhelp National Child Abuse Hotline at 1-800-4-A-Child (1-800-422-4453) or contact their live chat services.