Where Do Justin Bieber And Orlando Bloom Stand Today After Their Feud?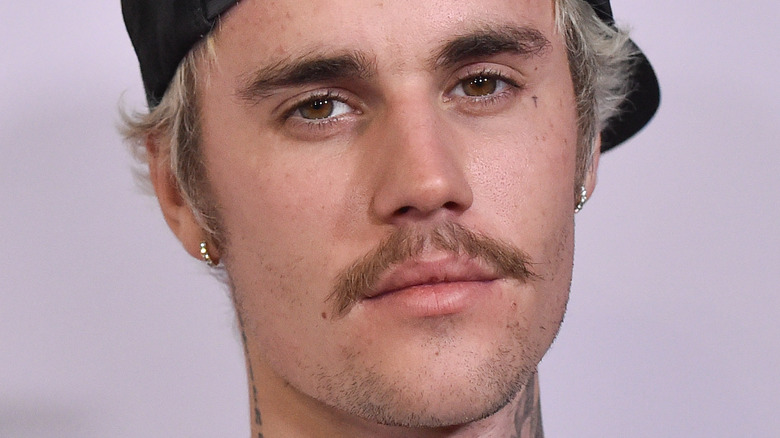 Shutterstock
Among the countless celebrity feuds within the past decade, the chaos that ensued between pop star Justin Bieber and "Pirates of the Caribbean" actor Orlando Bloom is certainly one of the more notable blowouts. In 2014, the two made headlines after reports surfaced claiming that Bloom "threw a punch" at Bieber while at a restaurant in Spain, per TMZ. 
According to the outlet, "One account is Justin extended his hand to Orlando, who refused it, and when Justin asked 'what's your problem' ... Orlando mentioned [his ex-wife Miranda Kerr]. Justin then tried to walk away and that's when Orlando swung." However, other eyewitnesses noted that Bieber "said something to the effect of, 'I had sex with your wife' ... and then Orlando swung."
The comments in question date back to a situation that took place all the way back in 2012, when news broke that Bieber had been "flirting with Kerr, a former Victoria's Secret Angel, backstage at the label's fashion show," per The Sydney Morning Herald. According to the outlet, "rumors of 'sexy text messages and dates' followed." By 2013, Bloom and Kerr had announced that they were separating.
Despite Bieber and Bloom's argument reaching an apparent peak, the pair seem to have maintained their disdain for each other. Here's a dive into where the two stand now.
Orlando Bloom was a no-show at Justin Bieber's wedding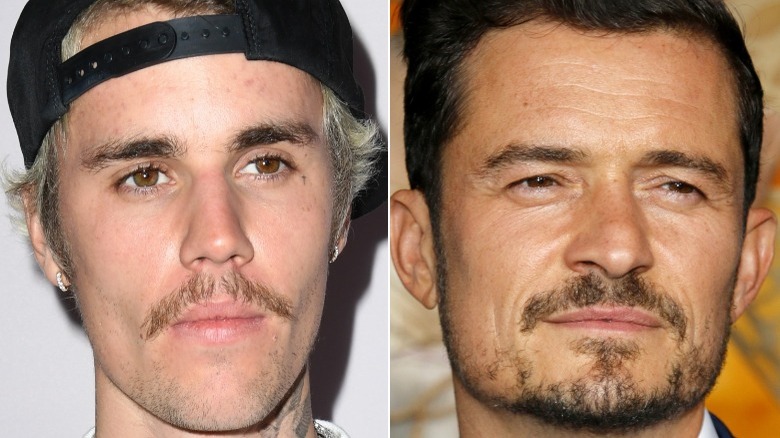 Jon Kopaloff/Getty Images, Shutterstock
Although both men have moved on with their love lives — Orlando Bloom and Katy Perry got engaged in 2019, while Justin Bieber is now married to Hailey Bieber (née Baldwin) — they seemingly haven't quite put their past with each other aside. 
While Bieber and the model "quietly tied the knot at a New York City courthouse in 2018," per Insider, the couple had a second wedding the following year, which Katy Perry attended. However, per Cosmopolitan, Bloom was noticeably missing. Considering the optics of going to a wedding without your significant other, Bloom's absence seemingly  spoke to the severity of his ongoing rift with Bieber. Insider notes that Bloom and Perry typically attend weddings together, as the couple appeared at singer Ellie Goulding's nuptials the same year.
In October 2018, about a year before Perry headed to South Carolina to watch the Biebers say "I do," the "Roar" singer uploaded a photo to Instagram, which showed her posing in front of a poster of Bieber with the caption "teen idol/american idol." Per People, Bloom took to the post to comment "Thirsty." Considering the post is still up on Perry's Instagram account, Bloom's pushback seems pretty tame all things considered when it comes to his history with Bieber.
Could Billie Eilish help end the feud once and for all?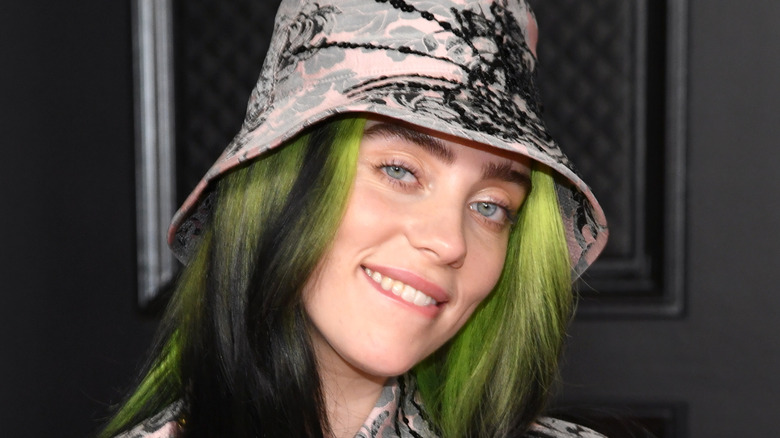 Kevin Mazur/Getty Images
The feud between Justin Bieber and Orlando Bloom has been dormant in the news following Bieber's 2019 nuptials. With no headlines about new restaurant brawls or plans for reconciliation, some fans have been left wondering if there's still tension between the two.
In May 2021, musician Billie Eilish might have started the bridge for the men to potentially repair things. In an interview with British Vogue, Eilish filmed a video for the magazine's "Ask a Legend" series, which included her famous friends. Among the celebrities who made appearances in the video to ask Eilish questions, Bieber and Bloom were prominent picks on the list. Considering the range of Eilish's friends that British Vogue could have chosen for the video, this decision only builds upon the history between to the two stars.
Even though it was only a virtual "reunion" of sorts, the fact that Bieber and Bloom both have mutual respect for Eilish could help them finally patch their feud.