Here's How Much Colin Jost Is Really Worth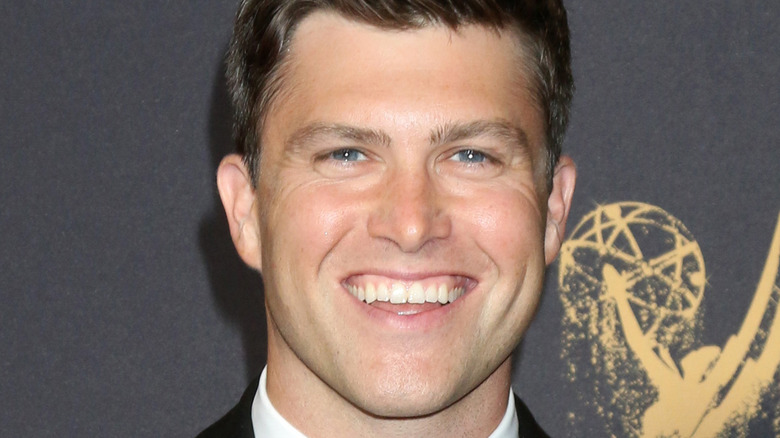 Shutterstock
Colin Jost found success in the television industry right out of the gate (the gate of Harvard Yard that is, where he graduated from in 2005). He landed a writing job on "Saturday Night Live" directly afterward and eventually anchored "Weekend Update" by 2014, per Variety. The "SNL" mainstay realizes he looks different than the typical comedian. "Some of you think you know me, but you're actually just thinking of the villain from an '80s movie who tries to steal the hero's girlfriend by challenging him to a ski race," he wrote in his memoir "A Very Punchable Face" (via The New York Times). Facing public backlash as he quickly rose the "SNL" ranks weighed heavily on Jost. "I thought about leaving both. I thought about leaving the show," he said on "The Howard Stern Show" in 2020.
Fortunately for him, he decided to stay on "SNL," where he met Scarlett Johansson. After two years of dating, the couple were engaged in 2019, and married in a private ceremony in November 2020, per People. Jost revealed on "The Howard Stern Show" that lockdown helped bring the couple closer. "[Before quarantine] I don't think we had spent more than a week straight in the same place," Jost said. 
As one of the biggest stars in Hollywood, and with a net worth of $165 million (per Celebrity Net Worth), Johansson is clearly the breadwinner of the family, but how much is the "SNL" veteran worth?
Married life has perhaps changed his ambitions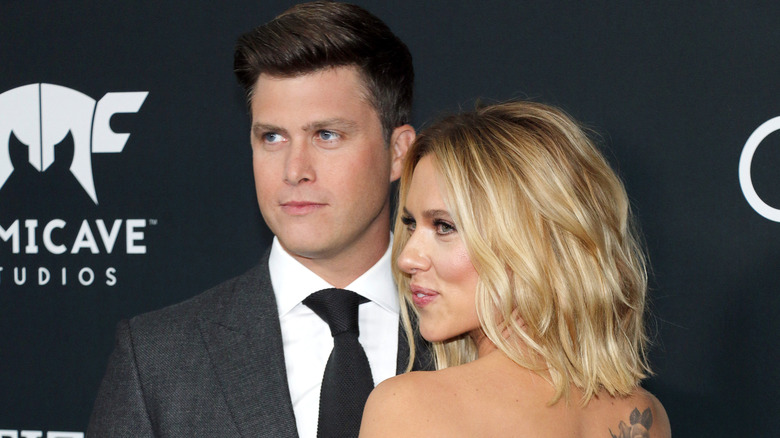 Shutterstock
Colin Jost and Scarlett Johansson had a small wedding ceremony at her $4 million home which was put together in a matter of "weeks," per the Daily Mail. The couple chose the actor's palatial home for their nuptials, but Jost owns an impressive home himself, which he bought before meeting his future wife. The "Saturday Night Live" star bought a four-bedroom, 2600 square-foot home in Montauk, New York for $2.14 million in 2016, per 27east. He may not command the same salary as his wife, but Jost makes an estimated $25,000 per episode on "SNL" which equals out to around $525,000 a year. With many years on the sketch show under his belt, Jost is worth an estimated $8 million, per Celebrity Net Worth.
The "Weekend Update" host has been vocal in the past about not being satisfied with sticking to his television gig. In his memoir, Jost mentioned wanting to tackle larger projects, as covered by Variety. The comedian reiterated this stance in 2020 when he mentioned how having a family has influenced his decision-making. "I'm about to get married. I now almost have a stepdaughter who I love and is a big part of my life now," he told The New York Times. "I'm starting to do more and more outside of the show. It felt like the right time to look back," Jost added. 
Being married to an A-lister may inspire Jost to leave TV for projects for the big screen!