Jamie Lynn Spears' Net Worth: How Much Is Britney's Sister Worth?
Michael Loccisano/Getty Images
Jamie Lynn Spears wants you to know she's "broke" and not profiting off big sister Britney Spears. In yet another blow for the Spears family, a piece published by The New Yorker on July 3 alleged that father Jamie Spears, mother Lynne Spears, and brother Bryan Spears all see Britney as their bank. They "have all spent years on Spears' payroll, and, as friends who spoke with her at the time recalled, she was increasingly resentful of their efforts to influence her."
Despite insinuating Britney's family capitalizes off her, the article didn't name Jamie Lynn. But on July 6, the 30-year-old took to social media to address any mystery surrounding her salary, per E! News. Jamie Lynn screenshotted a Daily Mail headline, which read, "Britney Spears' sister Jamie Lynn shares photos of her home life... after it's revealed she is the ONLY family member not on singer's payroll," and wrote on her Instagram Story: "Facts... now leave my broke ass alone."
It's the second time Jamie Lynn has spoken out about Britney since Brit revealed her 13-year conservatorship left her "traumatized." Jamie Lynn previously responded to claims during an Instagram video, saying she "supported" her sister and has always been financially independent. "I mean I've worked since I was 9 and paid my own bills since I was 10 years old, not that I owe the public anything because my sister knows I love and support her and that's the only person I owe anything to." While it's unclear whether Jamie Lynn has always fended for herself, we've broken down whether the star is actually "broke."
Jamie Lynn Spears' show was Nickelodeon's highest-rated at the time it premiered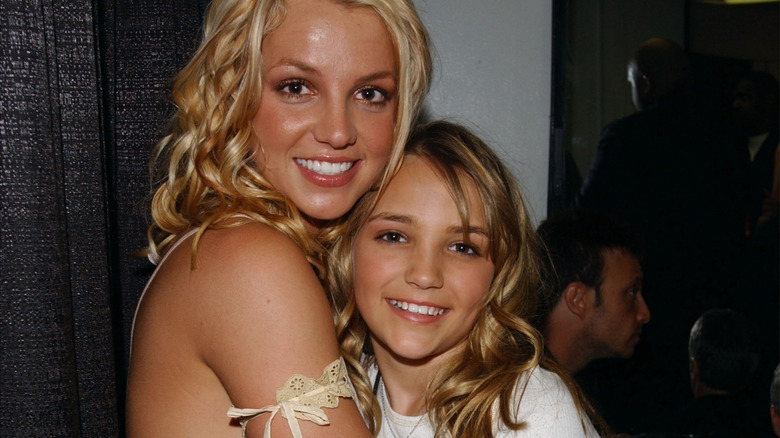 Frank Micelotta/Getty Images
While everyone has a different idea of financial freedom, perhaps Jamie Lynn Spears should double-check the definition for the word "broke." Jamie Lynn first got her foot in the door thanks to her sister, playing a younger version of Britney's character in the 2002 coming-of-age film, "Crossroads," per Parade. And like how Britney began as a Disney star, Jamie Lynn became a Nickelodeon icon. She started with regular appearances in "All That" from 2002-2004, and then at 12 years old, Jamie Lynn scored her own show with "Zoey 101," per Celebrity Net Worth. When it premiered, it was Nickelodeon's highest-rated in nearly a decade.
The show was a commercial success, seeing Jamie Lynn earn numerous awards and nominations including a Kids Choice Award for Favorite TV Actress. The show came to an end in 2008 around the time the star welcomed her first child at 16. But that wasn't goodbye to showbiz for good, the now mother-of-two has had a country music stint, appeared in the self-titled TLC special: "Jamie Lynn Spears: When the Lights Go Out," and is featured in a slew of ads for brands, like Kraft and Pepsi. 
And while she's now married to a fellow Louisiana native, who describes himself as a "normal guy with a normal job," her long time in the entertainment industry — as well as her role on Netflix's hit "Sweet Magnolias" — sees Celebrity Net Worth estimating her wealth at $6 million ... a far cry from "broke" if you ask us.