Nick Cannon Breaks Silence On His Growing Family
Jason Koerner/Getty Images
Nick Cannon responded with "you only live once" while publicly discussing his fourth baby in less than six months. The now father-of-seven jokingly compared himself "to that of a seahorse" after City Girls rapper JT quizzed his speedy procreation during his Power 106 Los Angeles radio show on Wednesday. Cannon, who began his brood with ex-wife Mariah Carey 10 years ago, has since had children with three other women. On June 23, his current girlfriend Alyssa Scott gave birth to baby boy Zen and seemingly confirmed the baby was his on Father's Day. The 26-year-old posted an image to her Instagram Story of the "Masked Singer" host caressing her pregnant belly and captioned it: "Celebrating you today," per the Daily Mail.
Two weeks prior to Zen's birth, another former lady in Cannon's life, Abby De La Rosa, delivered twin boys, Zion Mixolydian and Zillion Heir, per Page Six. And it seems like there's no hard feelings between Rosa and Cannon, in spite of the two close pregnancies, as she honored the father of her twins during her announcement. In an Instagram Story, she wrote that she prays the twins "walk brave and boldly in your individual truth just like your Daddy," per the Daily Mail.
Additionally, Cannon welcomed his second child with Brittany Bell last December, a daughter named Powerful Queen. The pair already share a 4-year-old son, Golden "Sagon." While it's unclear whether all his children, including 10-year-old twins Moroccan and Monroe, will eventually become acquainted with one another, Cannon has reaffirmed they were all planned. 
Nick Cannon admits there are 'a lot of people I could've gotten pregnant that I didn't'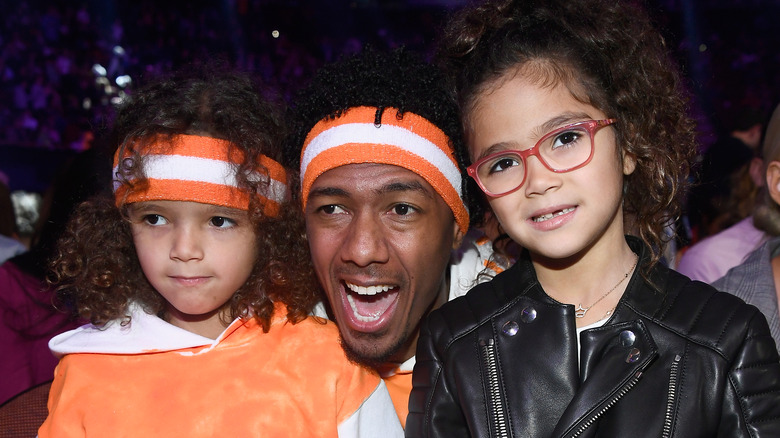 Frazer Harrison/kca2018/Getty Images
While it may seem like Nick Cannon's newborns are all pleasant surprises, the Hollywood personality has assured they were "no accident." City Girls Rapper JT (née Jatavia Shakara Johnson) addressed the elephant in the room by jokingly advising Cannon to "wrap it up and protect yourself" ... in other words, wear condoms to prevent unintended pregnancies, per Page Six. But Cannon clapped back and said, "I'm having these kids on purpose. I don't have no accident!" In attempts to explain himself, which perhaps did not come across as well as he hoped, Cannon said, "Trust me there's a lot of people that I could've gotten pregnant that I didn't." He continued, saying, "The ones that got pregnant are the ones that were supposed to get pregnant."
While Cannon did not say whether he was stopping at seven, it's possible he may be open to expanding his family even more. Yung Miami, the other half of City Girls, defended the host when she said, "I say YOLO," to which Cannon agreed and said, "There it is, you only live once." Probably not the best-suited affirmation to go by when talking about safe sex ... especially given Cannon's track record. 
Back in 2017, Cannon joked about not wanting to use contraceptives during a Howard Stern interview after being diagnosed with the autoimmune disease Lupus, per the Daily Mail. "I'm probably gonna die sooner than most people... so let's f*** all night! So why wear condoms? I might not be here tomorrow!'