Who Is Simone Biles' Coach?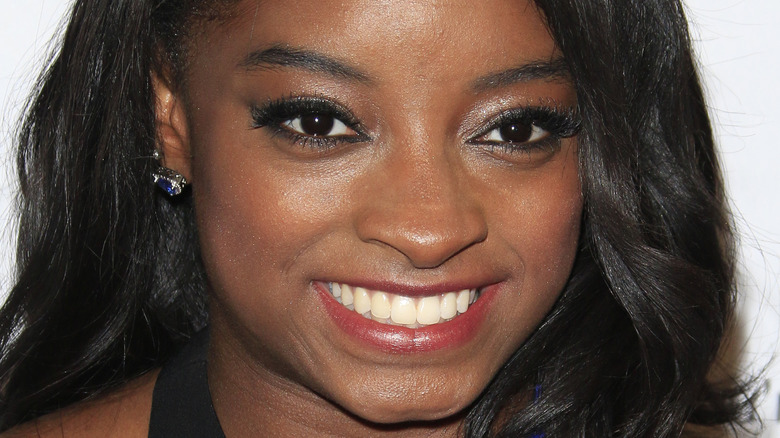 Shutterstock
Simone Biles will be headlining the U.S. women's gymnastics team in Tokyo, Japan, at the end of this month, five years after winning a whopping five medals at the 2016 Summer Olympics in Rio de Janeiro (via ESPN). The Tokyo Summer Games were delayed by a year due to the coronavirus pandemic and Biles reports that she's relieved to have made it through the Olympic trials, which took place last month. "Yes, very relieved that Olympic trials is over," she said. "We still have a lot of work to put in once we get over there." 
Biles's victory at the trials appeared easy to any outsider, but the gymnast found herself in tears at one point over a couple of silly mistakes, including falling off the beam and stepping out of bounds during the floor exercise. "I kind of got in my head today and started doubting myself," Biles said (via ESPN). "And you could see that in the gymnastics. But just go home, work harder. This is just the beginning of the journey." Despite these missteps, she still earned a mind-blowing 118.098 points at the end of the two days, finishing ahead of teammate Sunisa Lee and maintaining her winning streak for the eighth year in a row.
The 24-year-old Ohio native is undeniably talented by her own accord, but she does owe some of her success to her incredible coaches, Cecile and Laurent Landi. Keep scrolling to learn more about the husband-and-wife coaching duo and their influence on Biles.
Husband-and-wife duo Cecile and Laurent Landi have revolutionized gymnastics coaching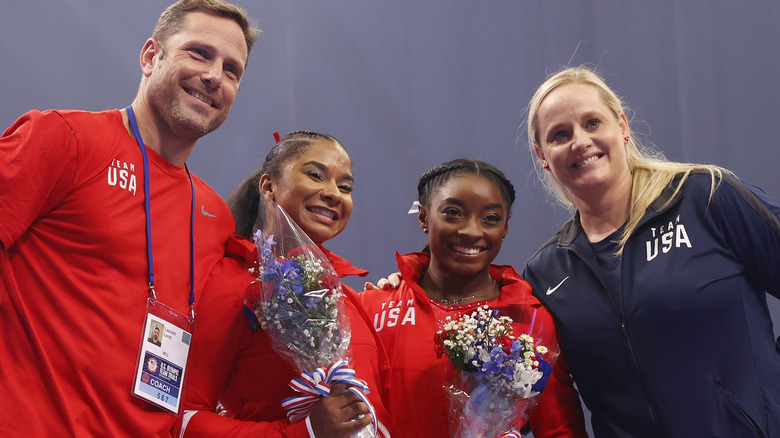 Jamie Squire/Getty Images
Olympic gold medalist Simone Biles has two incredible coaches: French husband-and-wife Cecile and Laurent Landi. The Landis both come from a background of professional gymnastics (via The Washington Post). They began as competitive gymnasts before moving into coaching at various American gyms with the intention of developing athletes for U.S. national and Olympic teams. 
Cecile commented on the experience of coaching (per The Washington Post). "We came to the States 17 years ago, and we have grown a lot as coaches," she said. "We have learned to be more open, more patient, and listen to our athletes." Laurent added. "You need to separate the good from the bad as you can, and only keep the things that made the kids successful: the preparation, the understanding of gymnastics, the [training in handling] pressure. But the things that hurt them, you must put that as far away as possible from the sport." Here, Laurent refers to the Soviet-style methods that were made popular in the U.S. by Bela and Martha Karolyi in the 1980s. In fact, the Landis take a completely different approach to coaching. They believe in a partnership between athlete and coach instead of an all-encompassing power model.
Biles appreciates the way the Landis coach, stating, "Gymnastics is supposed to be your safe place, but some days it wasn't. They understood that. So, to keep me safe, they'd just say: 'You need a mental break. Just go home and relax'" (via The Washington Post). 
Why Cecile and Laurent Landi chose to coach Simone Biles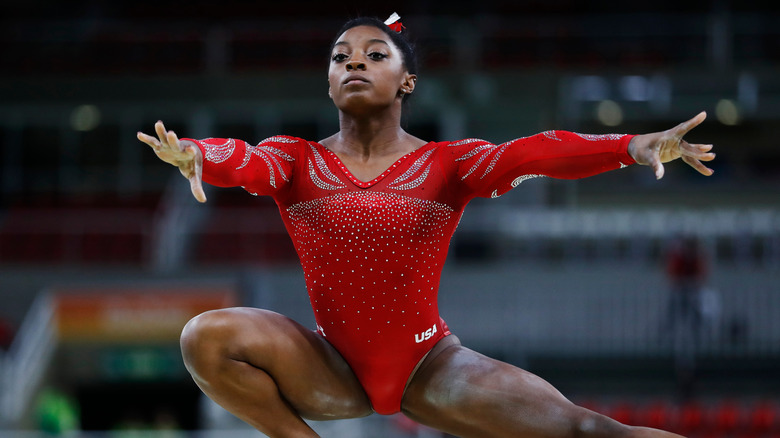 Shutterstock
Simone Biles went on the hunt for a new coach after her longtime coach, Aimee Boorman, left for a job in Florida following the 2016 Rio Games (via The Washington Post). Cecile and Laurent Landi were also contemplating changing things up after coaching Olympic gold medalist Madison Kocian and world champion Alyssa Baumann through the 2016 Olympic Games (via Olympics.com). While debating whether to open their own gym or expand into international coaching, they received a call that Biles was looking for a new coach. 
During an interview with Olympic Channel (per Olympics.com), Cecile put the decision simply: "How could we say no [to Simone]?" However, the couple wanted to make sure that Biles genuinely wanted to come back and was not just doing so to please her sponsors. Laurent explained what happened during the meeting (via The Washington Post): "We saw in her eyes that she wanted to do it for a good reason. It wasn't from the pressure of anyone else." The Landis jumped into a partnership with the talented gymnast and haven't looked back. Cecile noted, "We could always open a gym later on but coaching Simone is once in a lifetime."
When it comes to the upcoming 2021 Tokyo Games, Laurent explained his intentions as Biles' coach (per The Washington Post): "This is what we're trying to do: to get the best version of Simone Biles that we can get." The coaches, as well as the entire world, are eager to see how Biles will perform in Tokyo.