Who Is Bella Hadid's Mystery Man?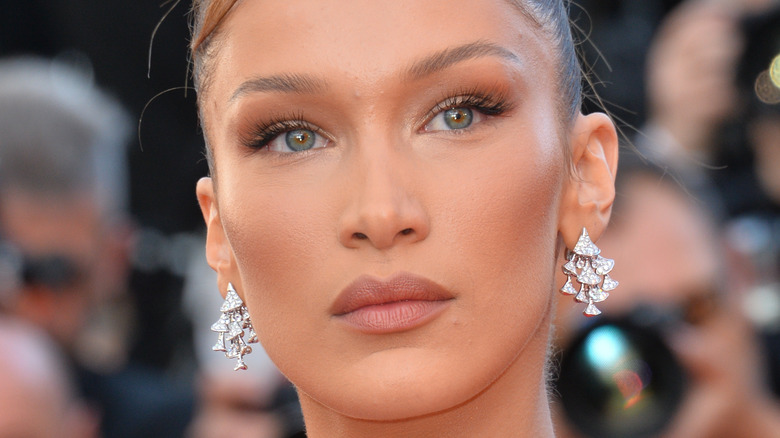 Shutterstock
Bella Hadid's career as a model may keep her in the spotlight, however, when it comes to her personal relationships, she tends to keep things relatively private. What we do know is that she had an on-again-off-again relationship with The Weeknd that lasted from 2015 to 2019, per Hollywood Life.
While Bella and The Weeknd seemed to be happy during their time together, their jam-packed schedules — as well as his relationship with Selena Gomez — seemed to come between them and a potential happily-ever-after. Despite that, the former couple has apparently kept things on friendly terms, even if it doesn't look like they'll be reuniting anytime soon.
Why do we say that? Well, because it now looks like Bella has moved on to someone new and has even gone public with her mystery man. Read on to see them together and to find out what we know about the man who is apparently making her feel so loved.
Bella Hadid is (slyly) showing off her possible new romance
It looks like Bella Hadid has fallen for someone new! On July 8, the model took to Instagram to share a collection of photos from a trip to France that showed her posing on a balcony and getting her hair done, as well as a video that featured a booty-shaking moment. However, it was another pic that piqued the interest of her followers (even though she snuck it in at the end because she's just that sly and a little bit cheeky).
In a slightly blurry shot, Bella can be seen smiling while embracing a man who seems to be coming in for a kiss. While she's wearing a pink plaid outfit, he's dressed in all black, and they both look gooood. The model wrote, "Time of my life ... Healthy, Working and Loved ..." She also added emojis for emphasis, including a heart, a rose, and fire.
Although the man's face isn't clearly visible, and Bella opted not to tag him, Hollywood Life noted that "fans are speculating that the mystery man is Marc Kalman, who Bella has been spending quite a bit of time with lately." Unfortunately, Marc's IG is locked, so we can't see if he's also been posting about Bella, however, Page Six noted that he's an art director who's done album artwork for Travis Scott. He's also someone who might have the approval of Bella's family, as her sister Gigi Hadid left a smiley face on the IG collection that featured the sweet pic.