What You Need To Know About Winnie Harlow's Skin Condition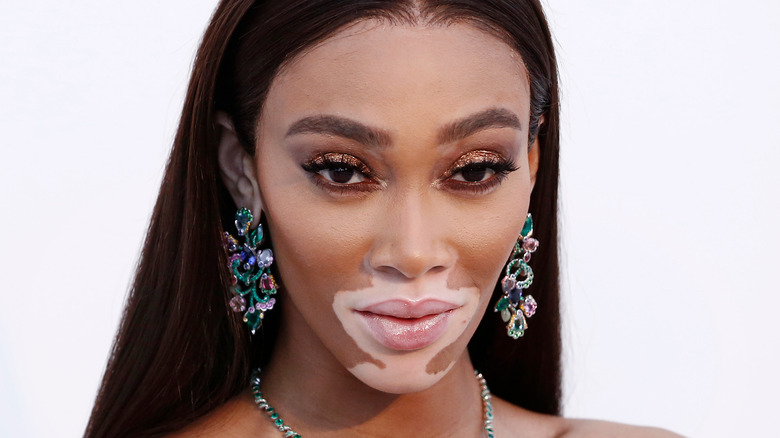 Shutterstock
Winnie Harlow — outside of her well-documented romance with Los Angeles Lakers player Kyle Kuzma – has been a power player in the modeling industry for a minute. Harlow is estimated by Celebrity Net Worth of being worth $3 million. After kickstarting her career on the Season 21 cycle of "America's Next Top Model" in 2014, Harlow landed her first walk down the Victoria's Secret Show runway in 2018, per Vanity Fair. Overcome with happy tears when she found out the news, Harlow told the magazine, "I always wanted the best for myself. Obviously, Victoria's Secret is the best." 
Despite the initial visibility "ANTM" afforded the Canadian-born model, Harlow bluntly told Andy Cohen on "Watch What Happens Live with Andy Cohen" in 2018, "I really started after the show, because that really didn't do anything for my career... After being on the show, no one would book me and no agency would sign me because of the reality TV stigma." Responding to a fan on Instagram about how she really launched herself into the supermodel stratosphere, she wrote (via People), "Once I realized that, I stopped talking about it and grew my work base in Europe."
Given her remarkably high profile as both model and celebrity, curiosity has inevitably been piqued about Harlow's unique skin complexion. Here is what you need to know about it. 
Don't define Winnie Harlow by her vitiligo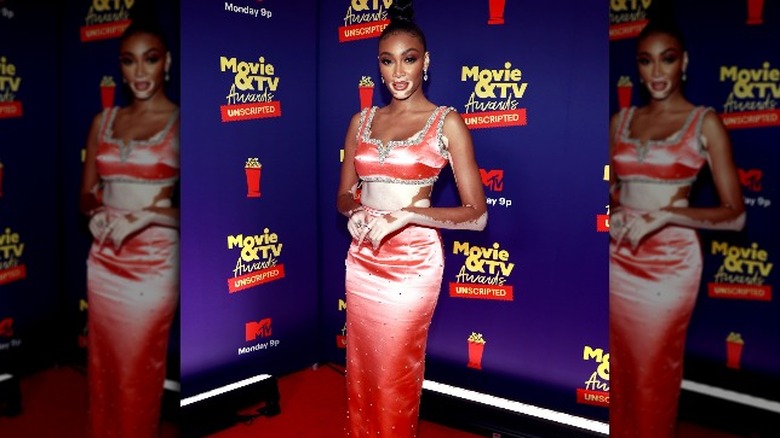 Matt Winkelmeyer/2021 Mtv Movie And Tv Awards/Getty
The Guardian once wrote that upon meeting model Winnie Harlow, "it would be rude not to stare at her skin." Harlow's unique black-and-white-toned skin is actually an autoimmune skin condition called vitiligo, which according to consultant dermatologist and British Skin Foundation ambassador Dr. Anjali Mahto (via Glamour), usually affects the most exposed parts of the body, such as the hands and face. Other prone areas, Mahto said, include "body folds such as armpits or groin area; places where the skin has been damaged such as cuts; around body openings such as eyes... and also in the areas around pigmented moles."
Per Mahto, vitiligo's cause remains unknown and there is little in the way of treatment and preventative measures. "Topical corticosteroids may restore some pigment to the skin," Mahto did offer to Glamour. "There's also phototherapy, which involves exposing the skin to artificial ultraviolet light, but this treatment isn't suitable for all patients." 
Cleary, Harlow won't be requiring treatment, as embracing her unique look is part of her massive modeling career. However, she rejects the pressure of being a role model for simply embracing a part of her body. As she told ELLE Canada in 2016, "I'm not a vitiligo spokesperson just because I have vitiligo. If that inspires you, I'm proud ... If you want to know about it, you can do your research. Either way, I'm not in the dictionary under 'vitiligo.'" Very well-said.