What Christina Haack And Heather Rae Young's Relationship Is Really Like
Christina Haack has endured a lot of heartbreak in the past few years. Not only did her marriage to Tarek El Moussa break down, but she also surprised fans when she pulled the plug on her marriage to Ant Anstead in 2020. Since then, she's made many changes in her life, even changing her last name in hopes that she can bury the bad vibes from her past and focus on a better future.
Those good vibes apply to Tarek, who she successfully co-parents with despite their differences in the past. And now part of Christina's co-parenting journey with Tarek includes "Selling Sunset" star, Heather Rae Young. A little over a year after Tarek and Christina called it quits, he met and fell in love with the reality star, and the two will get married any day now.
Seeing how there are so many similarities between Heather and Christina (they both work in real estate, and according to some fans, they look like sisters), you'd think there would be jealousy between them, but that hasn't happened. Instead, Christina's relationship with Young is surprisingly drama-free — and the depths of their connection might even surprise some viewers.
Christina and Heather are two peas in a pod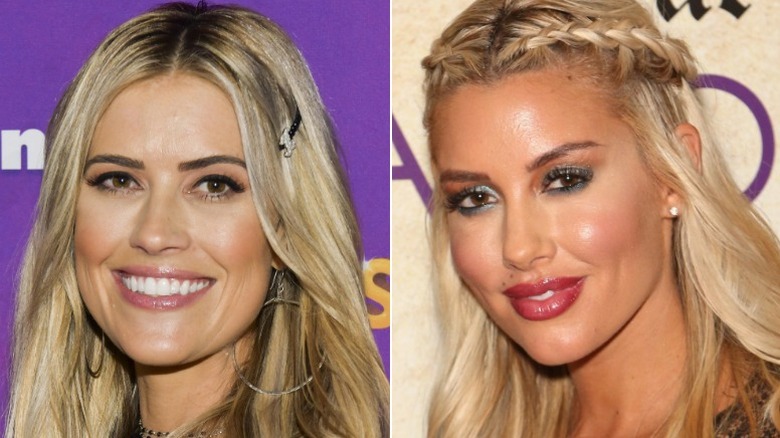 Rodin Eckenroth, Gabe Ginsberg/Getty Images
At first, Tarek El Moussa didn't even tell Christina Haack that he was dating Heather Young, and had the two meet completely impromptu one day in late summer 2019. Despite the surprise get-together, they hit it off. "They both eat that healthy, hippy food," Tarek quipped during an appearance on "GMA3: Strahan, Sara and Keke" (via Us Weekly). "That weird juice. They do that weird hiking stuff."
Seeing how Christina and Tarek share two children: 10-year-old Taylor and 5-Year-old Brayden, Young wanted to reassure Christina that she was serious about her relationship with the HGTV star, while also respecting the fact that the two of them work together to co-parent their children. The move worked and was definitely a smart one, as Christina and Heather have formed the kind of relationship that you often don't see between an ex-wife and a fiance. Things are so chill between them that Heather and Christina sent each other bouquets of flowers on Mother's Day, per Today. And if you think all of the goodwill is a cover for jealousy, think again. "I actually loved that he [Tarek] and his ex were able to have a healthy relationship for the kids and that mattered more to me than his past," Heather told a fan about the early days of dating Tarek (via House Beautiful).
Of course, the biggest winner in all of this has got to be Tarek, as he's got absolutely nothing to worry about when it comes to drama between these two gals.