Here's What Went Down During Nicki Minaj's Instagram Live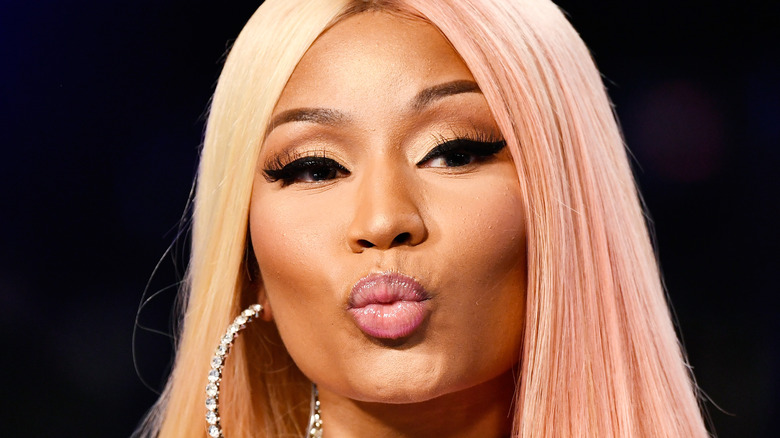 Frazer Harrison/Getty Images
When Nicki Minaj told fans she would go live on Instagram this week, the internet started speculating on what her announcement would be. "There's something I urgently need to share w|you guys," she tweeted on Instagram on July 6. "I'll go LIVE on IG THURSDAY @ 10:30PM EST. No, I won't be late. In fact, I'll be early. This is VERY VERY VERY IMPORTANT. Love you so much."
The last time she made a similar statement, she ended up blessing her fans with new music via a re-release of "Beam Me Up Scotty," so naturally, fans were almost convinced she would be announcing her new album, "NM5," or a new documentary. "NICKI IS COMING and it has something to do with either the doc or NM5. Either way look how WE WON," an excited fan tweeted before Minaj went live.
As if that wasn't enough, the same day she announced her IG Live session, Drake posted a picture from her recording studio — leading fans to believe she could even be dropping a project with the Canadian star. Then, the long-awaited IG Live session arrived the night of July 9. Though the Barbs didn't get a new album from Minaj, they were still in for a few treats. Scroll on to find out everything that went down.
Nicki Minaj dropped an exciting collab and got casual with Lil Wayne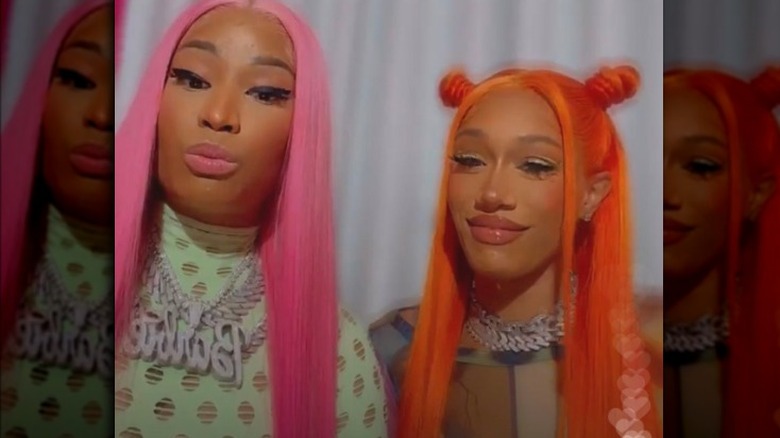 Instagram
Although Nicki Minaj promised she would be "early" for her Instagram Live session on July 9, she was late. To keep her viewers entertained, Minaj had DJ Boof playing some tunes and hyping up the crowd ... though some fans grew impatient. "who is this and why is he yelling and WHERE IS NICKI," one disgruntled fan tweeted.
Then, after making her grand entrance, Minaj gave fans a mini "Queen Radio" episode where she interviewed her longtime collaborator, Lil Wayne. And things got pretty spicy. "You're known for having a lot of sex," Minaj laughed. "What is your favorite position?" "On top," Wayne revealed. "In any part of life, period. Not just the bedroom, just on top." Then, after getting into a (yes) toe-related debate with Wayne, Minaj finally gave fans what they were there for — new music. After introducing rapper BIA, the two released the remix of "Whole Lotta Money" (and even gave viewers a mini-performance). Not even 24 hours after the song dropped, the remix has reached No. 5 on iTunes.
Apparently, Drake was impressed with BIA too, as he tried to shoot his shot. "@champagnepapi, stop texting me and go to your big booty ting," Minaj said while rolling her eyes. "Drake gon text me talking about 'BIA fine.'" The whole thing was ... an experience!