What Jason Momoa Looks Like Without Long Hair And A Beard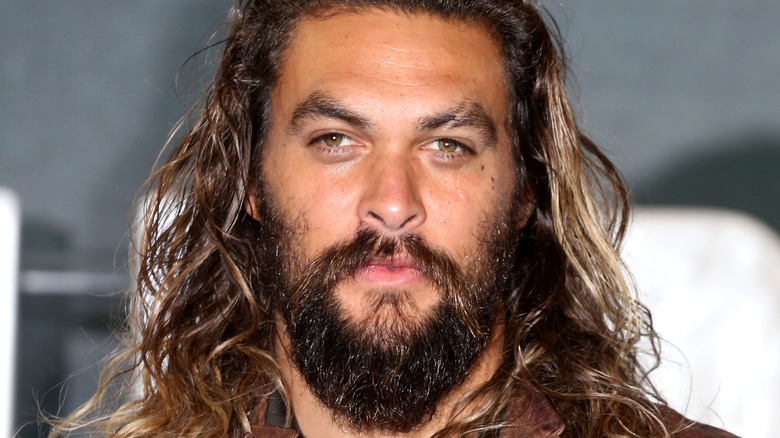 Shutterstock
Jason Momoa has launched an astonishing career thanks to his acting chops, his big heart, and, oh yeah, the fact that he's a major hunk. Most people know him as the Dothraki warlord Khal Drogo in "Game of Thrones," where he sported the longest ponytail imaginable, which actually carried symbolism, for multiple seasons. The ponytail was tuggable proof of his status as undefeated, per Marie Claire. Hot diggity.
The thing about Momoa's "Game of Thrones" performance was that he was, well, completely broke afterward and couldn't find work. "I mean, we were starving after 'Game of Thrones,'" he told InStyle. "I couldn't get work. It's very challenging when you have babies and you're completely in debt." Thankfully that has changed. But there are so many things people might not know about Momoa. He has a background in surfing and there's also a whole story to his trademark scar. He also has a hilarious story about how he met his wife, Lisa Bonet, and called himself a "full-fledged stalker" upon courting her.
While this is all very fun, we're going to turn back to Momoa's hair or, more accurately, his momentary lack of hair, in 2019. Yes, you read that right. Momoa cut his long hair and beard but before we declare it a national emergency, let's take a look.
Jason Momoa shaved his beard off for a good cause
Jason Momoa shared a video in April 2019 aptly called "Goodbye Drogo... I SHAVED." True to its name, Momoa shared in the video the process of him shaving off his iconic beard. He used the video for good, which made the sad loss of his hair somehow worth it, doing so to bring awareness to the damage of plastic to our planet and the need to put water into aluminum which is "infinitely" recyclable, as he called it. In the caption for the video, Momoa wrote: "I'm shaving this beast off, it's time to make a change. A change for the better ... for my kids, for your kids, the world."
Momoa's deeper purpose to the video was not lost on fans, leading one person to comment on a potential problem with our culture: "Also, can we acknowledge for a moment that this man is a genius? This video goes to show that. We pay more attention to a [celebrity's] facial hair than we do to the health of the very planet we live on. Good on you, brother."
Momoa didn't stay beardless for long though. In an interview on The Graham Norton Show later that same year, where Norton said that the world "collectively lost its mind" at his shaving it off, Momoa said that his children and wife wanted the beard back, so it looks like they won!