The Real Meaning Behind Billie Eilish's 'NDA'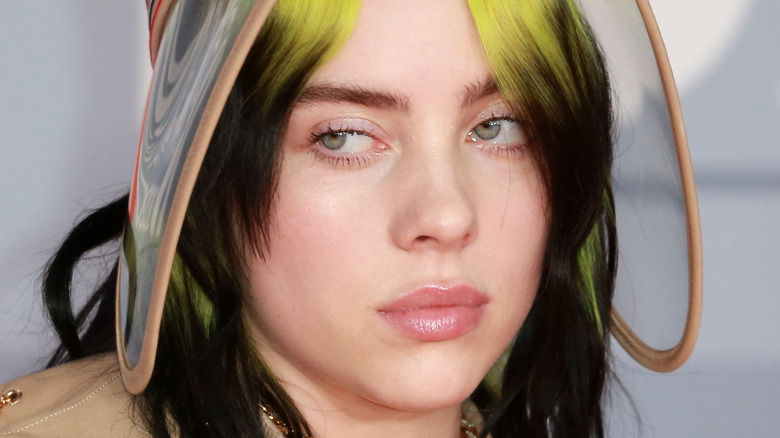 Shutterstock
It's safe to say fans are impressed with Billie Eilish's self-directed video for "NDA," which features her standing on a road at night as cars whizzing past. The star — who is still blonde — looms long in the darkness, her voice piercing the night like light. The haunting video premiered on July 9 and the song is a track on Eilish's second record, titled "Happier Than Ever." The singer has also released three other tracks ahead of the album release on July 30.
Clearly, 2021 has been quite a sensational Eilish. Her track "Everything I Wanted" won her the Grammy Award for Record of the Year, and "No Time to Die" grabbed the award for Best Song for Visual Media. Her magical voice aside, Eilish has been determined to prove her creativity with directing and performing, and this new music video sets a benchmark for that. With "NDA," the singer has taken things to the next level.
So what about the lyrics and meaning behind "NDA" the song? Read on to learn more about what inspired the moving music video.
Billie Eilish explores the downsides of fame
Talk about expanding creative horizons! With "NDA," Eilish — who turned 19 in December 2020 — has ventured deeper into her directorial endeavors. The catchy song's music video was filmed in a single take, and it didn't even have stunt doubles or visual effects employed to make things appear realistic, per Pitchfork. Albeit the risks associated with the video, standing so cool with frozen eyes and singing while fast cars whizz past is something that we could expect Eilish to do. 
The self-directed music video explores the singer's trouble with fame. Eilish sings about making a "pretty boy" sign a non-disclosure agreement (NDA) and having a "stalker walking up and down the street." Troubled by her fame, Eilish sings about switching to a "new career" so that she could disappear away. "How did it get so dark?" she croons in the final verse. 
It's not a surprising theme, as Eilish has vented about fame before. "I have the tiniest amount of fame compared to really big names like Justin Bieber, the Kardashians or anything like that, but the amount of being under a spotlight that I already have is already so insane," she told Tidal in 2018. "Hate is a whole other thing but it destroys you, dude. Fame f***ing sucks. I hate it." She added, "I don't mean that to sound ungrateful."