Who Are Julia Haart's Children?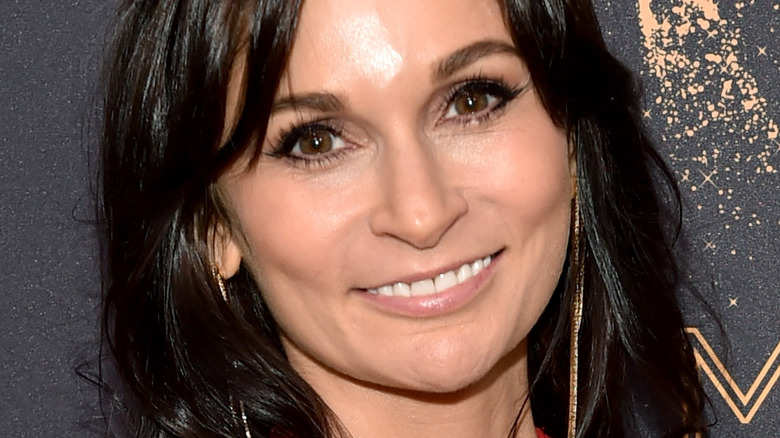 Alberto E. Rodriguez/Getty Images
Fashion CEO Julia Haart is giving a glimpse into her life on her new Netflix reality show, "My Unorthodox Life." The mom of four is the CEO of Elite World Group, the agency that represents stars like Kendall Jenner and Cody Simpson. Haart also created her own shoe brand and was once the creative director for the luxury lingerie brand La Perla. If this all is not impressive enough, Haart only began her fashion career in 2013 after spending most of her life in an ultra-Orthodox Jewish community. As she explained (via People), "I was 43 and knew nothing about the world. I felt like a Martian."
Haart decided to leave her husband and begin a new life with her four children after becoming increasingly uncomfortable with her community's strict principles. She explained, "My issue was never with Judaism. It was purely and solely with fundamentalism." Despite having zero experience with fashion, she found major success once she gained her independence. Haart dished, "I had investors who helped me, but it was a string of miracles and meeting people." She added, "I was so determined that I didn't stop to wonder if I would fail. It was success or death."
While Haart hopes to inspire others with her career, we also see how she parents, which apparently, to her, was the best part of the show. She told E! News, "My favorite part of this entire process was being able to work on something with my children." She added, "We spent every day working together and it was pure magic!"
Julia Haart's kids navigate life in the modern world
In the trailer for Netflix's, "My Unorthodox Life," we are not only introduced to Julia Haart, but also her four children. We first meet Julia's eldest son, Shlomo, who admits he's still a virgin. He reveals, "In the world I'm from, dating is meant for marriage." Yet it appears that the law student will eventually have his first kiss on camera. Julia's eldest daughter, Batsheva, is already well-known thanks to her millions of TikTok followers. But fans will now see how Batsheva lives her modern lifestyle, while still keeping some traditions. She explains, "I did the married thing young at 19 and never had any single years as an adult." Julia also makes it clear they are "not pressuring Batsheva to have babies."
Julia's other daughter, Miriam, is only a teen, but has already decided that she's "passionate about building apps that empower women." We also learn that she came out as bisexual, which her mom encourages her to "own." Miriam explains, "I'm just trying to be myself. That to me is what I fought with my mom to do." Julia's youngest child, Aron, seems to be the most bonded to the ultra-Orthodox community. He reveals, 'People have tried to be like, 'Why don't you loosen up a little?' I'm like, 'That's not me.'"
Each of Julia's kids appears to be dealing with their different upbringing, while also having lavish lifestyles. As their mother puts it (per E! News), "It was an experience we will all remember for a lifetime."