The Truth About Naomi Osaka's Parents
Shutterstock
Naomi Osaka is arguably one of the best and brightest tennis stars to hit the scene in recent years. At only 23 years old, Osaka has already been ranked in the No. 1 spot by the Women's Tennis Association, via WTA Tennis, and has even beaten another tennis great, Serena Williams, during the U.S. Open Final in 2018, reported The New York Times.
Aside from her tennis skills, however, Osaka recently made headlines because of her mental health. The athlete unexpectedly withdrew from the French Open in May 2021 citing how the pressure from French tennis officials and the press negatively affected her struggles with anxiety and depression, via The New York Times. "I think now the best thing for the tournament, the other players and my well-being is that I withdraw so that everyone can get back to focusing on the tennis going on in Paris," the world's highest paid woman athlete stated in an Instagram post. Despite backlash from French officials, Osaka received massive support from both fans and fellow tennis pros, like Venus and Serena Williams, per Harper's Bazaar.
Given Osaka's success on the tennis court, as well as her mental health struggles, what role have her parents played in her career? Read on to find out!
Naomi Osaka's parents, Leonard and Tamaki, are her biggest fans and her support system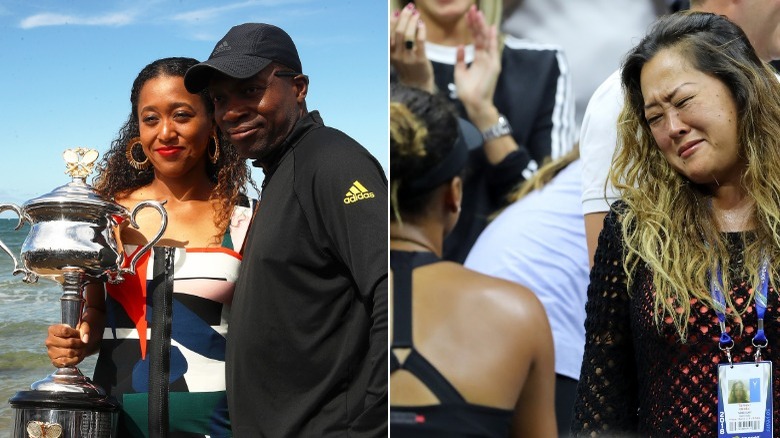 Julian Finney, Elsa/Getty Images
Move aside, Venus and Serena Williams; Naomi Osaka is the tennis pro to watch right now! With four Grand Slam singles titles and millions of dollars in endorsement deals, Osaka is on top of the women's tennis game, but how do her parents play into her success? The tennis star has a dual heritage from her Haitian father, Leonard Francois, and her Japanese mother, Tamaki Osaka. Because of her biracial background, Osaka identifies as both Black and Asian and is the first Asian tennis player to hold a top title in the world, reported BuzzFeed.
Francois actually took a page from the Williams sisters' early success and started coaching his daughter while she was young and moving her to Florida for training opportunities, according to Marie Claire. Naomi's mother, Tamaki, also played a huge part in developing her daughter's tennis dreams. "Growing up, I saw my mother work incredibly hard to support me and my passion for play. She always put others first and encouraged me to embrace my diversity," she said to Because of Them We Can. In addition to Francois and Tamaki's early efforts and their everlasting support, Naomi's parents are her biggest fans whether she's on or off the tennis court.
As Lindsay Davenport told Tennis.com, "[Naomi] is very close to her family. Her parents have done a remarkable job the last few years, grooming this superstar and then stepping back and letting her live her life."