Where Did Donald Trump Just Make An Unannounced Public Appearance?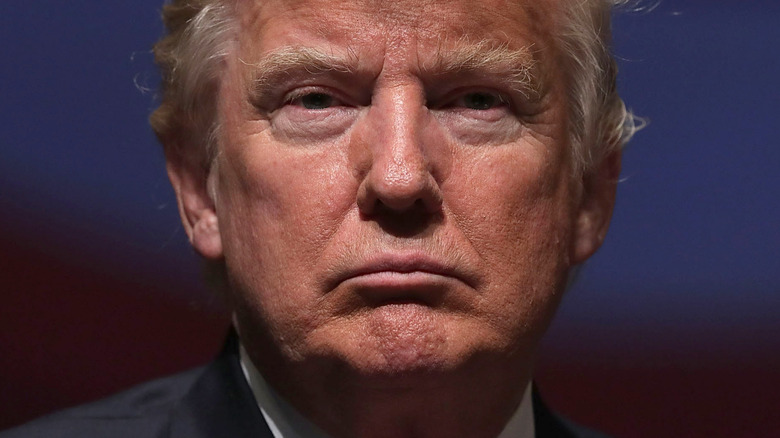 Alex Wong/Getty Images
Former President Donald Trump broke many norms during his time in office. And Trump continues to go against what is traditionally expected of former presidents and their families now that he's out of office. Trump started holding campaign rallies again; he's visited the U.S. Southern border and held press conferences. On July 3, the former president held a campaign rally in Florida. Reuters reported that Trump "used his speech to denounce the policies of his successor, Democratic President Joe Biden, and repeat his false claim that he lost the 2020 election due to fraud."
At the Florida rally, former President Trump also used his time on stage to rally against the criminal charges brought against the Trump Organization in New York state. Reuters reported that Trump told the crowd, "They've mobilized every power of government to come after me, my family, my wonderful employees and my company solely because of politics." According to Time, Trump is still popular with Republicans. Time reported on a Monmouth University poll that revealed 36% of Republicans believe that Trump won in November, and 57% of Republicans believe President Biden won but only because of election fraud.
So, where did Trump just make an unannounced public appearance? Keep reading to find out.
Trump attended the UFC McGregor-Poirier fight in Las Vegas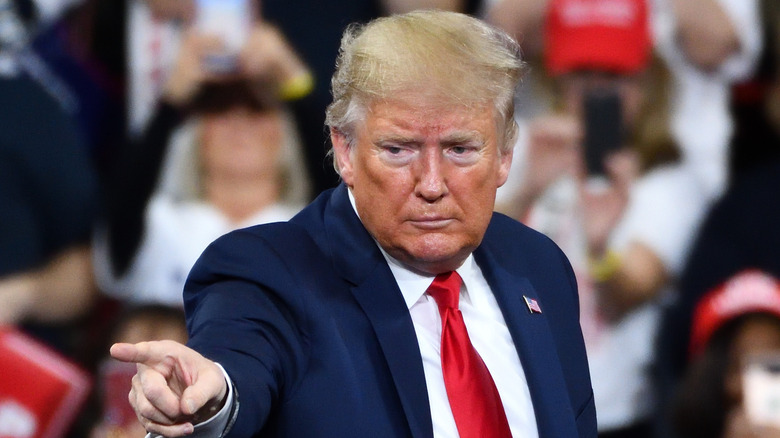 Shutterstock
On July 10, former President Donald Trump made an unannounced public appearance in Las Vegas at the UFC fight between Conor McGregor and Dustin Poirier, per The Hill. The outlet reported that "loud cheers broke out" when Trump appeared at the event, though some crowd members booed him, too.
Donald Trump Jr. shared a video from his father's appearance at the UFC fight at T-Mobile arena on Twitter. Don Jr. tweeted, "UFC crowd goes nuts when Trump enters the stadium with @danawhite!!! Chants of US... USA break out. These fans and most of the fighters just get it."
The Las Vegas Review-Journal reported that the UFC crowd packed into the T-Mobile Arena, and the event was sold out for the first time post-pandemic. The outlet reported that in addition to the former president, other celebrities attended the event. Celebrities seen at the UFC fight included Dave Chappelle, Mel Gibson, Miles Teller, Jared Leto, and NFL owners Kraft and Mark Davis.