What Britney Spears And Kevin Federline's Wedding Was Really Like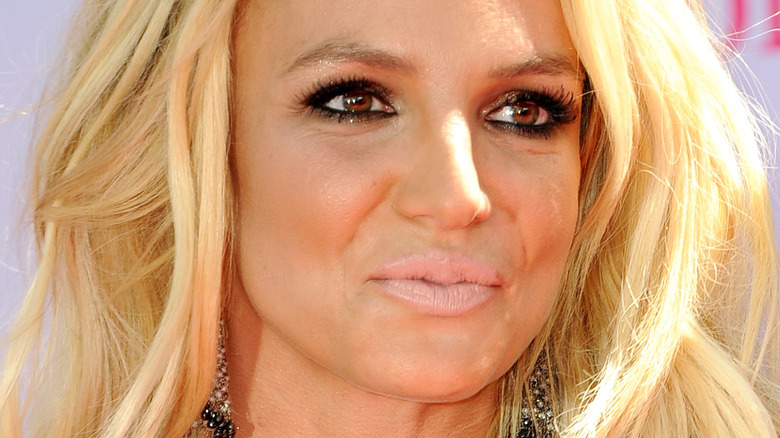 Shutterstock
It has been several years since Britney Spears split from Kevin Federline. The two got married in 2004 and filed for divorce in November 2006. A lot has changed between the former couple, who share sons Jayden and Sean Preston, over the years. Despite the ups and downs, however, their relationship has come to a unique point.
Spears' long conservatorship battle with her father, Jamie Spears, has been exhausting. And amid that, the singer and performer decided to seek treatment for her mental health — something which her former husband and DJ appreciates. "Kevin commends Britney for recognizing that she needs to take a step back and that she is taking the reasonable steps to deal with her situation in a responsible way," said Federline's attorney, Mark Vincent Kaplan (per The Blast). Federline has also agreed to take care of their two children until Spears recovers and feels better.
Per Us Magazine, the two have found some balance with co-parenting and have managed to sideline their differences. "It was a good time in my life," Federline said of his relationship with Spears. It's been a while since Spears and Federline evened out their differences, so it's a great time to look at how it all started with their wedding. So, what was Spears and Federline's big day really like? Let's find out!
Britney Spears and Kevin Federline's wedding was a top-secret affair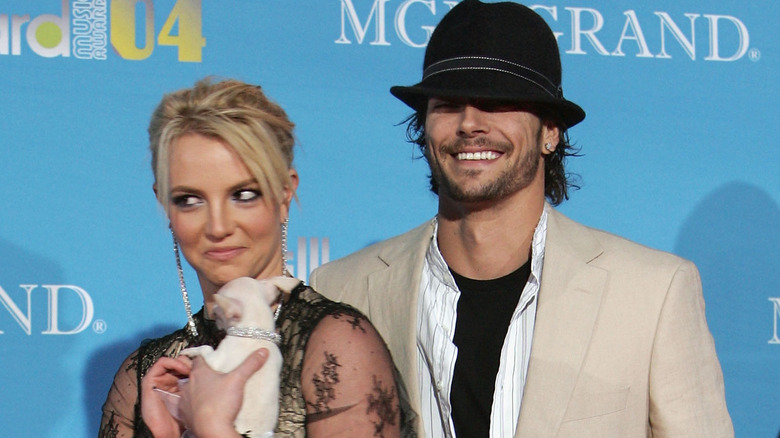 Frazer Harrison/Getty Images
It all happened so fast! Britney Spears met Kevin Federline at a nightclub in 2004. "I met her at a club in Hollywood, Joseph's. Our eyes met and that was it," Federline told People in 2008. "We just hit it off right away. I was madly in love with her." Things went well, and the singer invited the rapper and DJ to her tour, which was just the beginning. Per Us Magazine, the pair got matching tattoos and got engaged only two months after their first meeting at the Hollywood club.
Three months after their engagement, and amid growing paparazzi attention, the two surprised their friends, fans, and families with a unique wedding event! Their wedding was a twist in the tale. The pair sent out an invitation to friends and family for a private party at a Los Angeles residence. The party was supposed to celebrate their engagement, but when the guest arrived, they received an invitation which read: "Surprise! It is with much love that we welcome you to our wedding ceremony tonight."
It was a surprise, indeed. Nobody had any idea! Recalling how it all unfolded, Spears revealed on the reality TV series "Britney & Kevin: Chaotic," which aired on the UPN in 2005, that her mother was "dumbfounded" by the whole affair. "She couldn't believe what was going on, and when she realized it, she was so cute. She didn't know what to say," the Grammy award-winner added.
Here's how much Britney Spears' wedding dress cost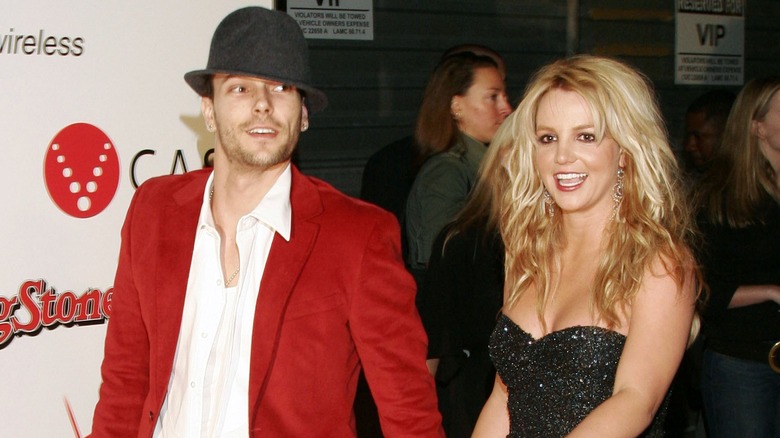 Matthew Simmons/Getty Images
Britney Spears was getting married, so obviously, it could not be an ordinary event. The singer was sparkling in a $26,000 strapless Monique Lhuillier wedding dress. Spears accessorized her expensive wedding dress with lace half gloves and a cathedral-length veil (per Brides). Then, for her reception, which she hosted in her backyard, the bride wore a mini lace number — also by Lhuillier — which she complemented with the traditional garter.
The wedding itself was special, too. Kevin Federline and Spears exchanged vows in a ceremony surrounded by numerous red and hot-pink roses and candles. Per Us Magazine, Jamie Spears gave his daughter away, and it was a moment that made the groom almost cry. The singer really liked how it all unfolded. "It wasn't the big, traditional wedding," Spears said on "Britney & Kevin: Chaotic," adding, "It was cool and it was nice and special and small, and I liked it a lot."
A delicious menu awaited the guests at the reception. Some of the food items laid out on the table included crab cakes, chicken fingers, ribs, and mashed potatoes. Once that was done, the couple and their wedding party — all wearing matching sweatsuits — went for late-night dancing (per Brides). Clearly, it was an affair to remember — a dreamy picture that Spears may want to repaint if she ever decides to get married again.