How Much Is Nyjah Huston Actually Worth?
Michael Bezjian/Getty Images
Professional skateboarder Nyjah Huston is about to make history as he gears up to compete in the Olympic Games' first skateboarding event. As one of the most respected athletes in the sport, he is ready for Olympic glory.
"Anything but a win I'm not going to be too hyped on," Huston said of his Olympic goals to GQ in June. His Laser focus on taking home the gold comes after he came in second place at the Street World Championships when he struggled to land a backside 270 noseblunt, which the outlet defined as, "a blind-shoulder balletic spin over a handrail that, executed correctly, would have seen him kiss the nose end of his board on the metal before rolling away cleanly."
Despite being the No. 1 ranked world tour skater, he was beaten by Japan's Yuto Horigome by one point after he sprained his wrist trying to land the complicated move. "I won a lot of contests with the trick," he told GQ. "This was the first big one I had tried in a while, and I was just like, 'Damn, apparently, I'm not as good at this trick anymore because I'm out here getting smoked.'"
But aside from his self-criticism, Huston is one of the best skaters in the sport after dedicated nearly his entire life to skating, even leaving school at 15 to work on his craft. Following a lifetime as a professional skateboarder, Huston has acquired a substantial net worth. Keep scrolling for more details.
Nyjah Huston is one of the highest paid skateboarders in the world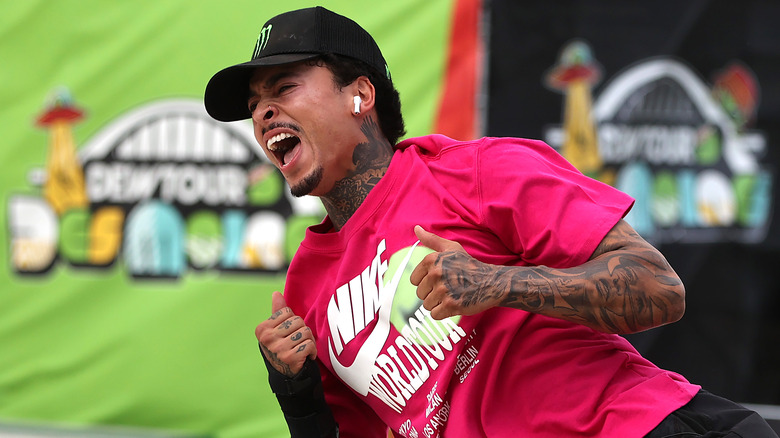 Sean M. Haffey/Getty Images
Although Nyjah Huston is set on being the first skateboarder to take home Olympic gold, the athlete has already wowed the world with his skills, and he has his net worth to show for it.
In fact, Huston has won more prize money than any other skater in history, according to USA Today's For The Win. With his longtime sponsorship with skateboard company Element and his notable endorsement deals with Nike, Mountain Dew, Doritos, and Monster Energy, Huston has amassed a fortune of $12 million, per Celebrity Net Worth.
With the millions he's earned from his business dealings and his winnings, including the seven gold medals he's won from competing in various Summer X games, he's gone on to make several smart real estate investments. With Huston's undeniable talent, there's no telling what's next for him and his bank account.