How Much Is Political Commentator Jesse Watters Really Worth?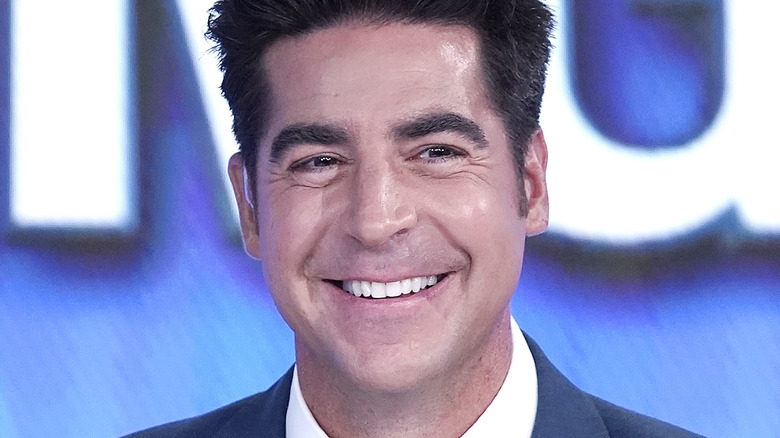 John Lamparski/Getty Images
Fox News host Jesse Watters is popular with his audience. Watters became a permanent co-host of "The Five" in April 2017, after his weekly show, "Watters' World," was a success. The host seems to follow the playbook of "The O'Reilly Factor" and other successful political talk shows on Fox News. He is known for his bold interviewing style, but how much is "The Five" host really worth?
As Watters's career rose, his personal life was in crisis. In 2017, his wife, Noelle Inguagiato Watters, filed for divorce, per the Daily News, after learning about her husband's affair with 25-year-old Fox News associate producer Emma DiGiovine. The couple had been married since 2009, welcoming twin daughters in 2011. According to The Daily Mail, the Fox News host and his former wife finalized their divorce in March 2019.
Five months after his divorce was final, Watters took to Twitter to announce his engagement to DiGiovine, and the couple married in December 2019. After his wedding, Watters posted on photo with his bride on Instagram, with the caption, "I'm Watters and this is my wife #soulmate." On April 1, Watters took to Instagram to announce the birth of his son. Watters posted a photo with the caption, "Emma and I are thrilled to welcome Jesse Bailey Watters, Jr. into our world. He clocked in on April Fools Day, weighing 7lbs 3oz." 
How did Watters's divorce impact his net worth? Keep reading to find out.
Jesse Watters' net worth is not great
According to Celebrity Net Worth, Jesse Watters' net worth is $5 million. According to the outlet, however, the Fox News host earns a salary of $2 million a year. Watters's net worth compared to his salary isn't great, but that may be because he took a financial hit in his divorce.
Watters and his now ex-wife, Noelle Inguagiato Watters, met in 2002 while they both worked at Fox News. He worked on "The O'Reilly Factor," and she worked in the advertising department, per The Daily Mail. After the first Mrs. Watters gave birth to the couple's twin daughters in 2011, the British outlet reported that she never returned from maternity leave. RadarOnline reported that the terms of Watters's divorce are confidential; the couple settled before the divorce case was supposed to go to trial. Since Watters was unfaithful, and the couple's twin daughters were only six when "The Five" host split, it's safe to assume the host had to pay big bucks to settle the divorce, impacting his net worth.
Watters likely settled the divorce to keep the details of his affair private for PR reasons. The co-host of "The Five" faced huge backlash in 2017 after making an inappropriate comment about Ivanka Trump. According to Fortune, Watters commented on how Trump spoke into a microphone, and his comment was "widely interpreted as sexual innuendo."