What Trump Really Thinks Of Richard Branson And Jeff Bezos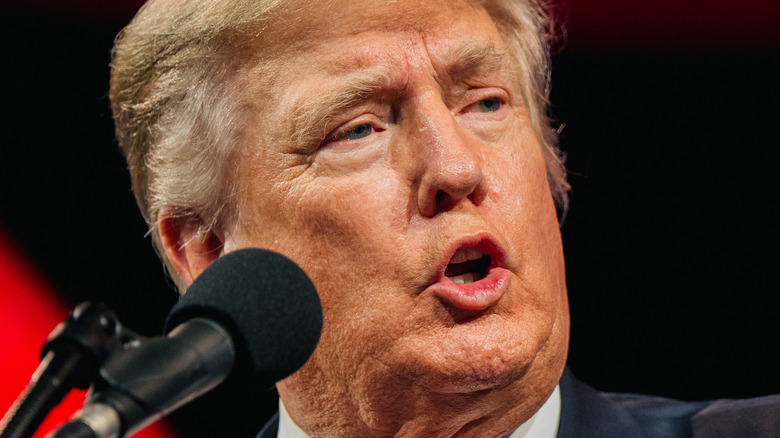 Brandon Bell/Getty Images
Out of the many things ex-President Donald Trump did (or didn't) do during his only term in the Oval Office, among them is his founding of the U.S. Space Force, a branch of the armed forces which, by all accounts, is meant to defend the country from attacks from outer space, despite not having any clearly defined defense initiatives. Now it seems that Trump has jumped on the creation of the Space Force as a way of taking credit for Virgin business magnate Sir Richard Branson's historic trip to space — and with it, a step towards the new frontier of space tourism.
As Insider reported on July 12, Trump appeared on a segment of the Fox News program "Sunday Morning Futures" via phone, which he seemingly did in order to tout out his theory that Trump's tenure in the Oval Office made it possible for Branson to achieve his flight to the outskirts of outer space in a spacecraft produced by Virgin, complete with a fully staffed crew. During the call, he also mentioned that he was responsible for not only Branson's completed mission, but developments made by billionaire and Amazon founder Jeff Bezos to do the same, making space flights more accessible for the general population (or, for now, those few who can afford it). But is this actually the case? Read on below to find out.
Richard Branson and Jeff Bezos were working on their space tourism projects long before Trump's presidency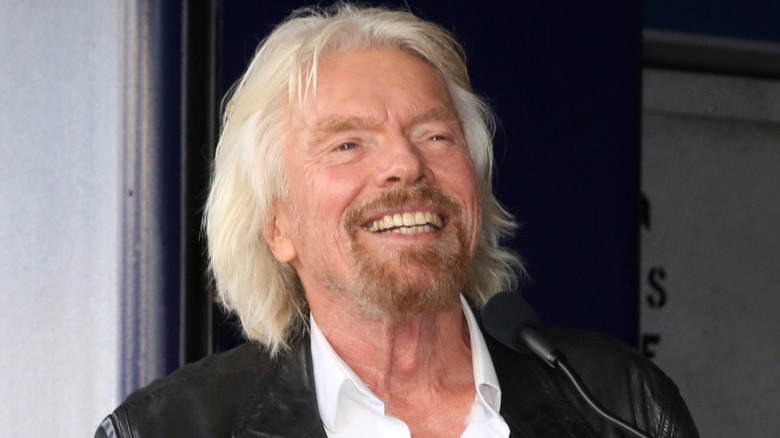 Shutterstock
Per Insider, Donald Trump purportedly took credit for Sir Richard Branson's space flight shortly after the entrepreneur successfully touched back down to Earth. During a phone call interview with Fox News on July 11, the erstwhile 45th president of the United States commented on not only Branson's space-related ventures, but those of Jeff Bezos', as well. "They love sending rocket ships up," Trump said, referring to both business moguls. "And I made it possible for them to do this. I actually said to my people, 'Let the private sector do it.'" He also stated that he came up with the idea to "lease" government facilities to both Branson and Bezos. 
However, as Insider noted in their coverage, both Bezos and Branson were working on their space tourism projects long before Trump assumed office in 2017, with Bezos conducting his first round of tests in 2015 for his aerospace company Blue Origin, and Branson for his Virgin Galactic manufacturer in 2014. In addition to this, both already had governmental contracts during the White House administration under President Barack Obama, with Branson's first contract dating back to at least 2011. According to Insider, Trump also stated that he had been responsible for "reopening" NASA, despite the fact that NASA has been in continuous operation since 1958.