What Britney Spears Said Her Boyfriend Looks Like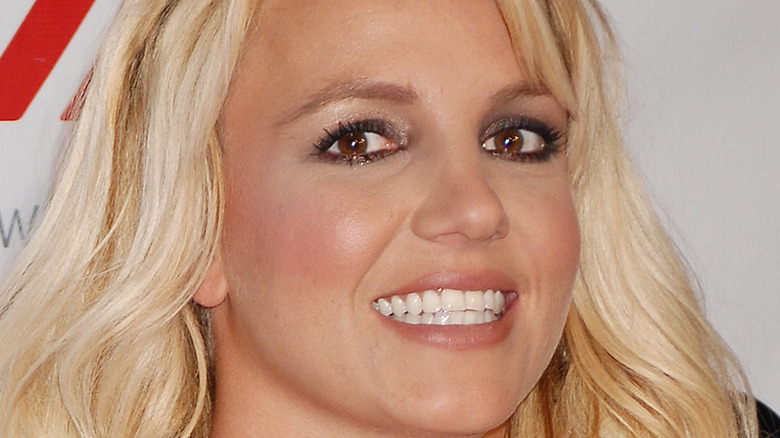 Shutterstock
Britney Spears' messy conservatorship battle keeps raging on, much to her fans' dismay. However, while the pop legend isn't #free just yet, her supporters can take comfort in knowing that she appears to be in good spirits. In a recent Instagram post, her playful personality was on display as she made a funny observation about her boyfriend, fitness model Sam Asghari.
Spears and Asghari met in 2016 when he was cast in her "Slumber Party" music video. He told Entertainment Tonight that someone he knew was part of Spears' production team and suggested Asghari for the role of the singer's love interest. This got him in the running for the part, and Spears herself picked him after seeing his photo. They started talking while they were working together and kept in touch via text. Five months after their initial meeting, Spears called Asghari and invited him out on a sushi date.
The two became inseparable, and Asghari started appearing regularly on Spears' Instagram, where he's since become a common fixture. Ashgari's a personal trainer, and sometimes his girlfriend shares videos of them working out together. The couple is also quite adventurous: they've gone biking at the beach and horseback riding, and they occasionally enjoy jetting off on a romantic getaway. After their latest fun outing, Spears had something to say about her man. So, how did she poke fun at him?
Britney Spears thinks Sam Asghari looks paternal
On July 11, Britney Spears shared Instagram photos that were taken during a hike. She and Sam Asghari posed in front of a fallen tree trunk that was blocking their trail. The "...Baby One More Time" singer wore a pair of gray athletic shorts and a dark blue Queen T-shirt, while Asghari rocked black shorts and a dark gray "Hang Loose" tank top. They both had on sunglasses, but Asghari's shades were a flip-up pair, and the small oval lenses were pushed up above his eyes. "@SamAsghari looks like such a dad in these pics," Spears captioned her post, adding three crying-laughing emoji.
In the comments, Asghari gave himself the nickname "Dadgari." All of the dad talk reminded some of Spears' desire to be a mother. One commenter wrote that the singer's boyfriend "should be" a father and included a hashtag referencing her IUD. When Spears spoke to a judge about how restrictive her conservatorship is, she said that she wanted her IUD removed so that she "could start trying to have another baby." However, she was allegedly not allowed to do so (via Variety).
Spears shares two teenage sons with her ex-husband Kevin Federline. Life & Style has also reported that Spears wants to have a daughter with Asghari, who is reportedly interested in becoming a parent. "He's always dreamt of having children and thinks he would be a great father," an insider told Us Weekly. "He's a natural around little kids."