Scarlett Johansson Reveals Her True Feelings About Her Wedding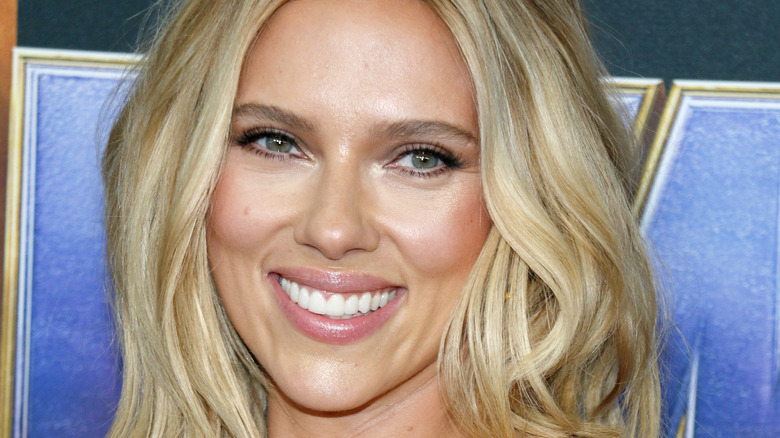 Shutterstock
Scarlett Johansson and Colin Jost's relationship has been fiercely driving headlines since they first got together. The duo started dating in 2017 after Johansson appeared on "Saturday Night Live." Per Insider, they actually met back in the early 2000s, but didn't get romantically involved until 2017. The outlet reports that after meeting again, they've been inseparable and essentially one of Hollywood's most-followed celebrity couples! Fans went wild when they got engaged in 2019 and even more excited when the duo finally married in 2020, per Insider. However, despite being a picture-perfect couple, their big day was not your typical Hollywood glam celebration. Johansson and Jost, like all couples married in 2020, had to plan their nuptials in the midst of the COVID-19 pandemic.
The pair exchanged "I do's" in October 2020 in an intimate ceremony at Johansson's home in Palisades, New York. While that sounds romantic, their wedding actually took place mid-pandemic. Therefore they had to have a more unconventional wedding to ensure that their guests remained safe at the event, according to People. So, many fans have been wondering, was the wedding everything the "Black Widow" actor had hoped for and envisioned? From safety precautions to logistics, aren't you curious about the details? We sure are! Here's what Johansson is now saying about her pandemic micro-wedding.   
Scarlett Johansson says her pandemic wedding was 'a little stressful'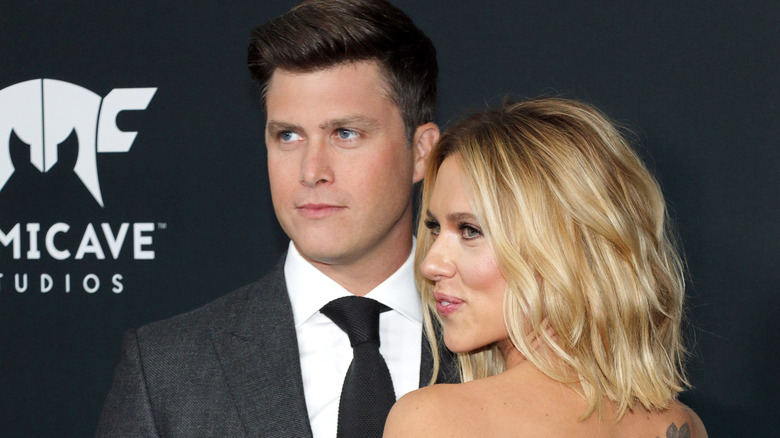 Shutterstock
On July 12, Scarlett Johansson opened up about her October 2020 nuptials to "Saturday Night Live" star Colin Jost. She appeared (virtually, of course) on "Late Night with Seth Meyers," (via People), where she told Meyers that her pandemic wedding was "a little stressful" to plan. 
She revealed, "Obviously we wanted to take all the precautions that we could, so we had the masks ... and everybody had to get [COVID] tests like 100,000 times." Johansson then went on to explain that as party favors, they gave their guests masks that said "Jost 2020." She told Meyers, "I mean, it's just weird. Looking back at the photos ... it definitely was a weird party favor that could only happen now, but you just gotta go with it."
However, despite the day being scaled-down and having COVID-19 guidelines in place, Johansson explained that it ended up being a day she will remember. "Even though it was small and intimate, it was beautiful and we were so happy to see people that we hadn't seen in such a long time. We just felt very fortunate to be able to get together like that. It felt like it was sort of how it was supposed to be ... minus face masks." 
We're wishing all the best to these (relative) newlyweds!