How Many Times Did Princess Diana Meet Prince Charles Before They Married?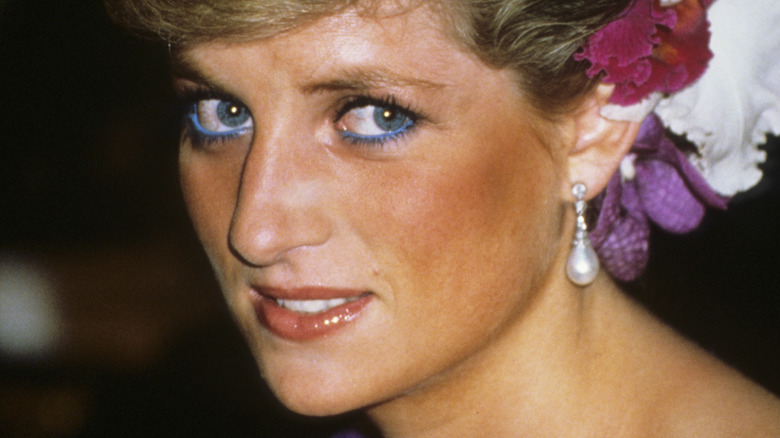 Georges De Keerle/Getty Images
With the rise of shows like TLC's "90 Day Fiancé," it's become the norm for individuals to fall in love with each other through screens and via phone calls. Many "90 Day Fiancé" couples have very short courtships as well, often meeting less than a handful of times before tying the knot. (And don't even get us started on "Married at First Sight.") It all may seem a little wild, but these blink-and-you-miss-it courtships aren't reserved for reality stars. In fact, back in the day, Princess Diana and Prince Charles had their own whirlwind romance.
Over the years, there's been a ton of speculation about Diana and Charles' marriage. The couple's relationship was even featured in the highly anticipated fourth season of Netflix's "The Crown." And despite Kate Middleton and Meghan Markle stealing the spotlight these days, the public's fascination with Diana has seemingly never waned. One thing that's clear about Diana is that she wasn't afraid to march to the beat of her own drum. Therefore, it shouldn't come as a surprise that her relationship with Charles was anything but ordinary.
Prince Charles and Princess Diana's chance encounter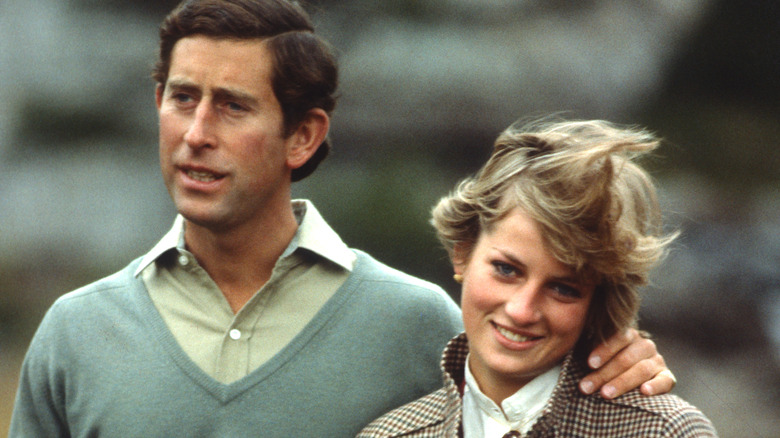 Anwar Hussein/Getty Images
Per Town & Country, when Prince Charles first set his eyes on Princess Diana in 1977, he was seeing her older sister, Sarah Spencer. According to the outlet, "it was through Sarah that Charles and Diana first met, at a shooting party in 1977 at the Spencer family home in Althorp." The relationship between Sarah and Charles didn't last very long, and while it was short, it was seemingly anything but sweet. She reportedly went on to claim that she wouldn't marry him "if he were the dustman or the King of England" (via the Mirror).
There have been a few differing accounts on what Diana's first impression of Charles was at the time. In their official engagement interview, Charles said when he first met Diana he thought, "What a very jolly and amusing and attractive 16-year-old she was." In the same interview, Diana said she thought Charles was "pretty amazing." However, per Tatler, in a sit-down with biographer Andrew Morton years later, Diana allegedly said her first impression of her future husband was, "God, what a sad man."
Love at first ring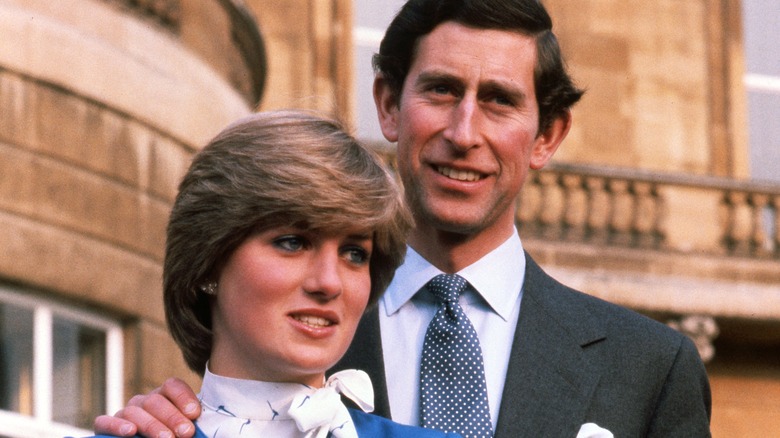 Anwar Hussein/Getty Images
Regardless of her feelings during their first encounter, when Princess Diana saw Princes Charles again — the two "reconnected" in 1980, per Town & Country — she seemingly felt a bit sorry for him. "He'd just broken up with his girlfriend and his friend Mountbatten had just been killed. I said it would be nice to see him," she said in the documentary "Diana: In Her Own Words" (via Elle).
She continued, "We were talking about Mountbatten and his girlfriend and I said, 'You must be so lonely.' I said, 'It's pathetic watching you walking up the aisle with Mountbatten's coffin in front, ghastly, you need someone beside you.' Whereupon he leapt upon me and started kissing me."
And although the 12-year age gap may have been a deterrent to some, Charles and Diana didn't let that get in their way. In fact, the couple moved quite quickly after that 1980 reunion. Rather than seeing each other in person, however, their courtship took place through quite a few phone calls and after meeting only 13 times, per ABC News, the couple got married in 1981. 
They would go on to endure a troubled marriage rife with alleged infidelity, and ultimately became one of the most talked about couples in history.