How Much Is Stephanie Gilmore Actually Worth?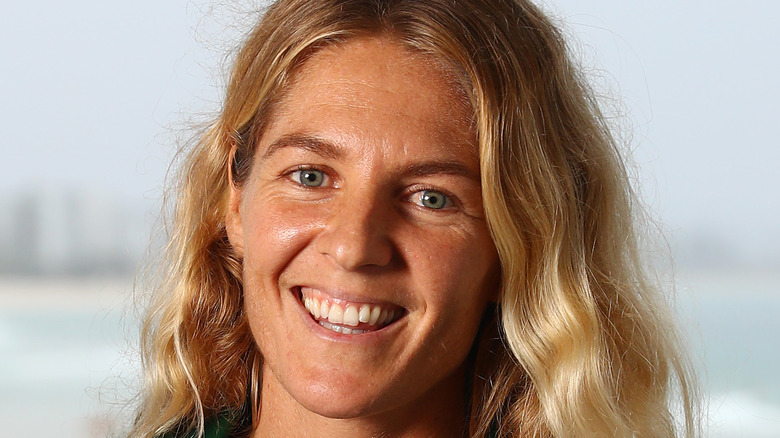 Chris Hyde/Getty Images
Stephanie Gilmore exploded on the professional surfing scene in 2007 and immediately began to rack up titles, but her success has transcended accolades and awards. The Australian took home a World Surf League title as a rookie in 2007, and won WSL titles the next three years, per Surfer Today. In total, Gilmore has won the WSL top prize seven times, and historically only trails surf legend Kelly Slater's 11 wins. After becoming an accomplished legend, Gilmore set her focus on competing in the Tokyo Olympics. She was inspired as a young girl during the Sydney games in her home country in 2000. "I fell in love with the idea of going to the Olympics. I never thought I'd get the chance as a surfer, but here we are, and it's like a dream come true," she told Pop Sugar.
The Australian has played major a role in gaining recognition for female surfers, and her own view of such evolved over time. "I was such a tomboy until I realized that the most powerful thing about a female athlete is that she can be glamorous and fierce at the same time," she told InStyle. And on the surfers who came before her, she said, "I'm really reaping the benefits of all of their decades of hard work, elevating the sport to what it is now," as she told The Inertia in 2018. 
Here's how Gilmore's success changed the tide for all female surfers, and her tubular net worth today!
She's partly why female surfers earn more now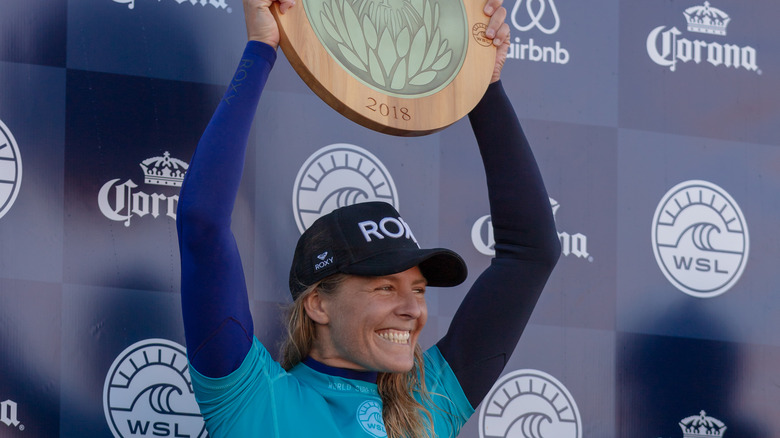 Shutterstock
When Stephanie Gilmore won her first WSL title in 2007, she took home a paltry $10,000, while her male surfing counterparts made between $40,000 to $50,000, per Just Women's Sports. By 2018, when she won the Rip Curl Pro, Gilmore took home significantly more with a $65,000 purse, but it was still much lower than the $100,000 the male champion was awarded. The disparity between the female and male prizes was most obvious as the champions were photographed on podiums holding their checks after events. 
A lack of equal pay became a point of contention, and the WSL announced that starting in 2019, they would offer equal prizes for their female and male competitors. Gilmore "worked directly" with the organization, per Elle, but admitted it took her several years to speak out. "It's [about] not being afraid to just stand up and use your voice for something and I've always been pretty quiet on that part," she told Elle in 2019. "I think for [the WSL], it was just a matter of righting a wrong."
Gilmore is among the highest-paid athletes in Australia thanks also to various endorsement deals. She has been a long-time brand ambassador for Roxy which has paid her roughly $1 million, per Stab. The surfer also has deals with Sanitarium and Nikon valued at around $250,000 each. Gilmore has a net worth of $3 million, per Next Biography. Plus, she's changed the sport forever!