The Real Reason Prince George's Style Is About To Change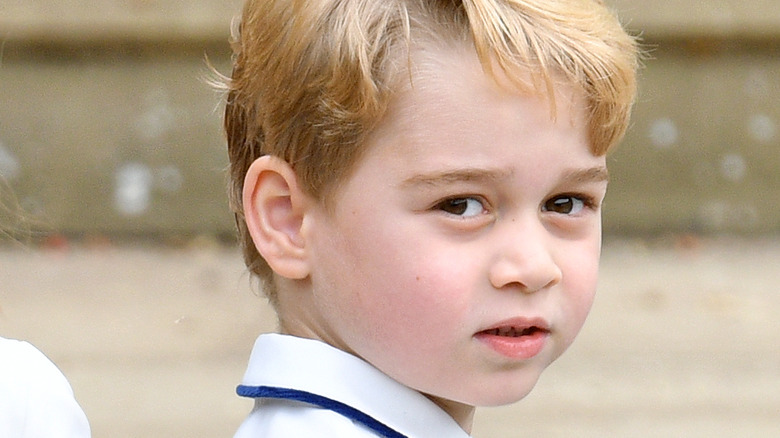 Pool/max Mumby/Getty Images
Prince William and Kate Middleton's oldest child, Prince George, has been a style icon practically since he was born. After his birth, George was wrapped in a blanket from Aden + Anais while he was taken home from the hospital. More than 10,000 orders were placed on that blanket within hours of the photos being posted online, per Vogue. In 2014, photos of the young royal wearing Rachel Riley dungarees circulated, and once again this led to a spike in sales. "[Prince George] has certainly led to increased global demand for our collections", the brand's owner told Vogue. As he grew older, George became synonymous with sporting a pair of shorts, so his outfit while attending the UEFA Euro 2020 Cup came as a surprise to many.
The Duke and Duchess of Cambridge attended the Euro Cup final between England and Italy on July 11, and George accompanied them in the royal box. This was the first time England's squad had reached a final since 1966, so William — the president of the Football Association — was not going to miss it, per Today. William and George were seen standing and cheering on their team in blazers and ties (seen below), but the stands blocked a view of the duo from the waist down. This became a matter of slight online controversy as some believed George wore chino shorts, when in fact, he wore long trousers, per Hello!. 
Keep reading to find out why George will ditch his signature shorts.
Prince George's age means its time for suits with trousers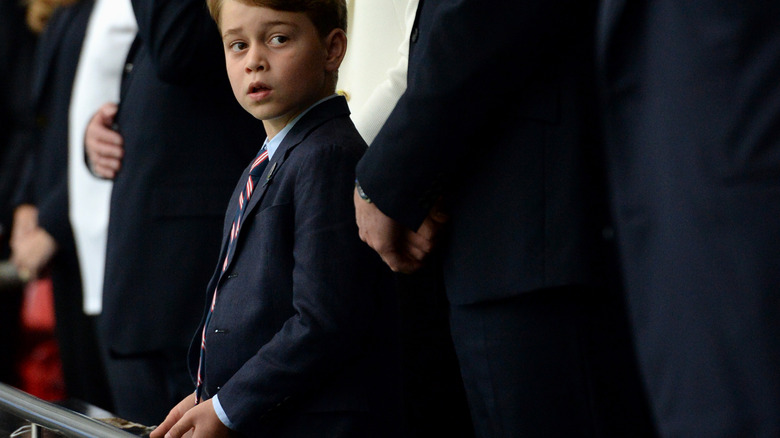 Eamonn Mccormack - Uefa/Getty Images
Along with Prince William and Kate Middleton, the royal box was filled with a bevy of well-dressed celebrities including David Beckham and Tom Cruise. To fit in with the posh crowd, Prince George donned a snappy suit. "I think it would have been rather strange to see William in a suit and tie and his son in shorts and a polo shirt," Sophie Mirman, a stylist who has helped the royal couple choose outfits for all their children, told People. The outlet noted that George had shed "his signature shorts and knee-high long socks for some time." George's style evolution was dictated more by etiquette than by his parents' preference.
The aristocratic British traditionally dress their young sons in shorts until a certain age. "Trousers are for older boys and men, whereas shorts on young boys is one of those silent class markers that we have in England," etiquette expert William Hanson told Harper's Bazaar in 2018. "[A] pair of trousers on a young boy is considered quite middle class – quite suburban," Hanson added. 
The Euro Cup match came just weeks before George's eighth birthday which is sartorially significant. "The usual custom is that a boy graduates to trousers around eight years old," Hanson said. The etiquette expert explained that this is believed to be associated with the tradition of "breeching" which dates back to the 1500s. Expect George to continue wearing trousers going forward!