Inside Allyson Felix's Marriage To Kenneth Ferguson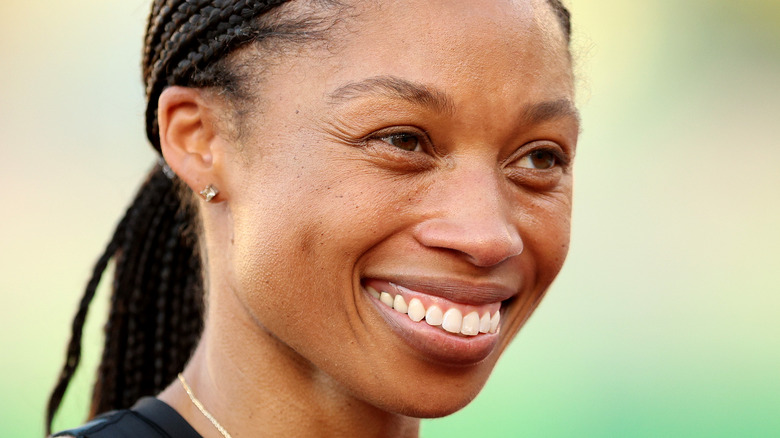 Patrick Smith/Getty Images
As track and field ace Allyson Felix gears up to compete in the Tokyo Olympics, she can count on her husband Kenneth Ferguson to be there to support her. Though they are relatively private about their personal life, their respective Instagram accounts offer a deeper look into their nearly 20-year relationship. The two, who have a lot in common because they're both athletes, have been through a lot and never miss the opportunity to praise each other on social.
"From young love to tons of unforgettable moments over the years...I love growing with you!" Felix wrote in 2020 to celebrate Ferguson's birthday. In his 2020 birthday tribute to the Olympic gold medalist, he wrote, "It's funny that lately you've been talking about your age and it seems that you and everyone else knows you turned a year older except me. In my eyes, you are exactly the way that you were when I saw you for the first time 18 years ago in Palo Alto .... Beautiful and fine!"
It's unclear when Felix and Ferguson got married, as they've never publicly shared their wedding date, but based on his caption, they met in 2002. Years later, they welcomed a daughter named Camryn, per People. Scroll ahead to learn what we do know about the couple's relationship, including whether they plan to have more kids.
Allyson Felix and Kenneth Ferguson prioritize their relationship
Despite her busy schedule, Allyson Felix makes her marriage to Kenneth Ferguson a priority. "I think it's just important to really try to schedule time for ourselves in," she told People. "For me, it's been hard because a lot of that is asking for help sometimes but it's just — we have a great support system and it's amazing."
The athlete credits her parents for helping the couple have the alone time they need to keep their relationship strong. "My parents don't live too far so they've been great about [daugher] Cammy getting to spend time with them and then we can spend time focused on ourselves and our relationship," she explained. "I'm just really treasuring some of that time just with us as well. It's not always easy, but I think if you make it a priority then you can make it happen."
According to their Instagram accounts, the happy pair likes to hang out on a boat, travel to beach destinations, and perform TikTok challenges. As for whether they want more kids, Felix and Ferguson eventually want to expand their family. "I would love to have more children [but] right now our focus is definitely on these upcoming games," the Olympic star told People in 2020. "But definitely in the future I would love to grow our family."