How Much Is Allyson Felix Actually Worth?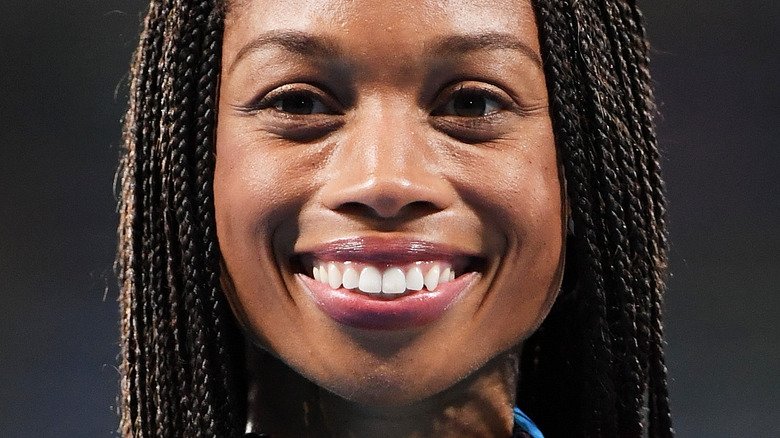 Quinn Rooney/Getty Images
Track and field star Allyson Felix is gearing up to compete in the Tokyo Olympics, which is her "fifth and last," according to the Los Angeles Times. The sprinter took home her first medal in 2004 at age 18 before going on to earn a total of nine medals at four different Olympics. She now holds the record for most track and field medals won by an American woman.
Yet for Felix, competing isn't just about winning medals. She explained to the New York Times, "It's not just about me running fast. It is about doing very specific things — advocating for women — or seeing how this career makes sense beyond 'I need more medals.'" It appears that for Felix, things changed after she gave birth to her daughter, Camryn, in 2018. The Olympian called being a mother her "biggest accomplishment," adding, "It's been also really challenging trying to figure out how to do both at the same time."
While Felix was already a successful athlete before she became a mom, she says that Camryn made her even stronger. She revealed, "There's been a lot of fights, a lot of challenges along the way, but she has been the driving force to be able to get through that and she's really helped me find my voice and allowed me to do things bigger than wanting to run fast." Felix is now not only a mom but also a businesswoman, who has a bigger bank account than you may think!
It's about more than just money for Allyson Felix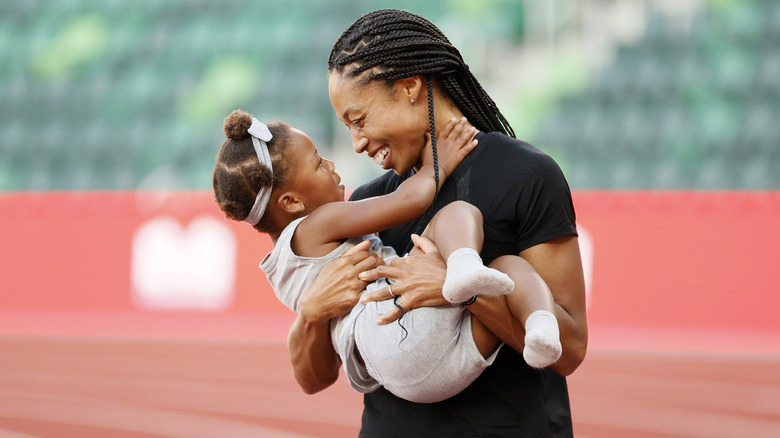 Steph Chambers/Getty Images
Olympian Allyson Felix is proving that track and field athletes make a lot more money than you may have thought. According to Celebrity Net Worth, the sprinter is currently worth $4.5 million. Yet it seems that that number will just keep growing, especially with the launch of her new lifestyle brand Saysh, where she'll primarily sell footwear. Time reports that Felix raised $3 million to initiate her new business.
Like a lot of other athletes, Felix also makes money from endorsements. She recently became the first athlete spokesperson for Athleta. Felix had left her previous sponsorship deal with Nike in 2019 after a highly publicized dispute over maternity protections. The brand was paying her 70% less after she gave birth, according to the New York Times. The issue was about more than just money for Felix, who's become an advocate for working mothers in sports. She explained, "It's for that woman who has been overlooked, or feels like their voice hasn't been heard. That was the biggest thing when I spoke out, was hearing from other women across industries."
Felix is continuing to use her success to do good. She announced that she's donating her winnings from the Olympics to Right to Play, which is "a humanitarian organization that seeks to increase sports access in disadvantaged areas." Her company Saysh will match her donation. Clearly for Felix, making a difference (much like she does in races) comes first!