Inside Alix Klineman's Relationship With Teddy Purcell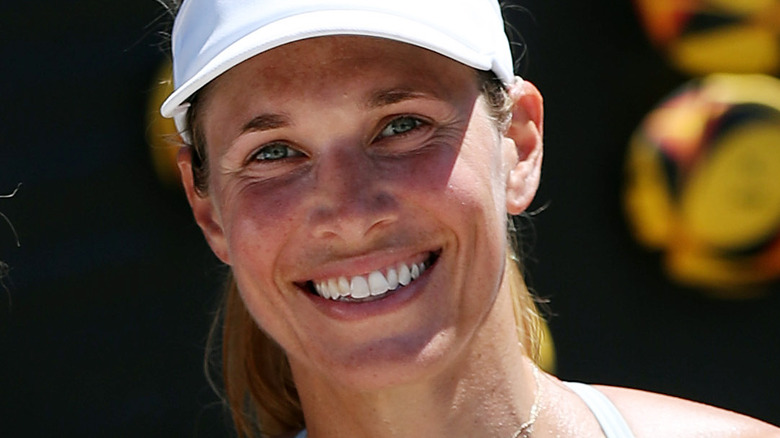 Handout/Getty Images
The Olympics are set to kick off in Tokyo on July 23. And one of the athletes on her way to the Olympic village is American beach volleyball player Alix Klineman. This is Klineman's first Olympics, and it marks her first world stage as a beach volleyball player.
The 6'5" athlete from Manhattan Beach, California was a standout high school indoor volleyball player, per the Southern California Jewish Sports Hall of Fame. She also helped her team win three consecutive California state championships. Klineman went on to attend Stanford University and played for the school's women's volleyball team from 2007 to 2010. She was the Volleyball Magazine Player of the Year during her senior year in 2010, per Team USA. After college, she played professional volleyball in Italy from 2011 to 2015 and in Brazil for another two years.
In 2017, she left indoor volleyball behind and teamed up with beach volleyball pro April Ross. The two are expected to compete for the gold medal in Tokyo. They are ranked number two in the world behind Canada's Sarah Pavan and Melissa Humana-Paredes, per E! News. And at the 2021 Olympics, Klineman will have a big cheering section led by her former professional hockey player partner Teddy Purcell. Keep reading to find out everything you need to know about this athletic couple.
Teddy Purcell and Alix Klineman are engaged
Alix Klineman is engaged to former professional hockey player Teddy Purcell, per HeyAlma. Purcell is from Newfoundland and played for the Los Angeles Kings, Tampa Bay Lightning, Edmonton Oilers, and Florida Panthers. Despite being a standout hockey player, Purcell wasn't selected in the NHL draft in his first year of eligibility. He eventually made it to the NHL after spending time in the AHL, the minor league of hockey.
Like her fiance, Klineman has had her share of disappointment in her volleyball career. When she didn't make the Team USA Volleyball team for the 2016 Rio Olympics (her third time not making the Olympic team), she reassessed her goals. "I looked at the beach as a new opportunity and a chance to chase my dreams without anybody having to give me approval or put me on a roster," Klineman said (via Team USA). "The biggest thing was pursuing the Olympics and getting a new shot at that."
The athletic couple lives in Klineman's hometown of Manhattan Beach, California, and has an adorable labradoodle named Vedder. There's no news on when Klineman and Purcell plan to walk down the aisle — the Olympics are the couple's priority right now, as they should be!