What's Really Going On With Joe Exotic's Prison Time?
The story of Joe Exotic's wild life was told in part during the Netflix series "Tiger King: Murder, Mayhem, and Madness," but there has been a new development. The eclectic reality television personality, whose real name is Joseph Maldonado-Passage, has been in prison since he received a 22-year sentence in 2019. As KOCO detailed, the "Tiger King" star was convicted of conspiring to have his nemesis Carole Baskin killed. He also faced charges related to offering the sale of tiger cubs as well as killing five tigers he'd had at his exotic animal park. Now, a new ruling provides a glimmer of hope the "Tiger King" star may not have to serve his full 22-year sentence.
Exotic was accused of killing the tigers in October 2017, although he claimed he did that because they were in pain. He also attempted to sell tiger cubs around that same time, and the alleged murder-for-hire plot took place in November 2017. He was hit with federal charges in September 2018 and found guilty in April 2019. 
Still, Exotic had hoped to receive a pardon from former President Donald Trump in January. In fact, he and his team were so confident the pardon would come, they had a limousine ready to pick him up upon his release, had a style team standing by, and pre-recorded a video to thank Trump for the pardon. They were left hanging in that case, but they didn't give up in their pursuit of Exotic's freedom.
A small win for Joe Exotic emerges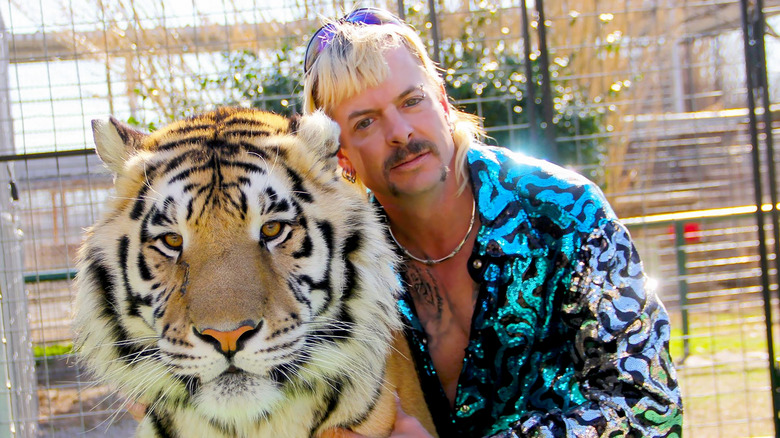 Netflix
On July 14, a court vacated Joe Exotic's 2019 sentence, detailed KOCO. The conviction was upheld, but the U.S. Court of Appeals 10th Circuit decided a resentencing was needed. In 2019, the judge in Oklahoma City determined individual sentences for each of the two murder-for-hire counts. The "Tiger King" star's team argued the counts should have been combined for one sentence. The Appeals Court panel agreed, so now the original Oklahoma City judge will decide on a revised sentence.
According to KOCO reporter Dillon Richards on Twitter, the original judge felt it'd been a "close call" whether or not to sentence Exotic separately or together on those counts. Despite the new court win, Exotic won't be immediately released. Rather than a 264-month sentence, it seems he can expect something in the range of 210 to 262 months instead.
After the ruling, Exotic took to Twitter. "I would like to thank my Appeal Attorney, Brandon Sample, for winning my appeal. Now starts the job of @JohnPhillips to file all the stuff to prove the corruption by the Federal Agents and U.S. Attorneys." A follow-up tweet read, "Now would be a good time for President Biden to say enough is enough and sign my pardon, and become a world hero before all the proof comes out of just how corrupt this case really is." Exotic may not be able to count on a pardon at this point, but the new court ruling was a small win.