Who Is David Parnes From Million Dollar Listing And What's His Net Worth?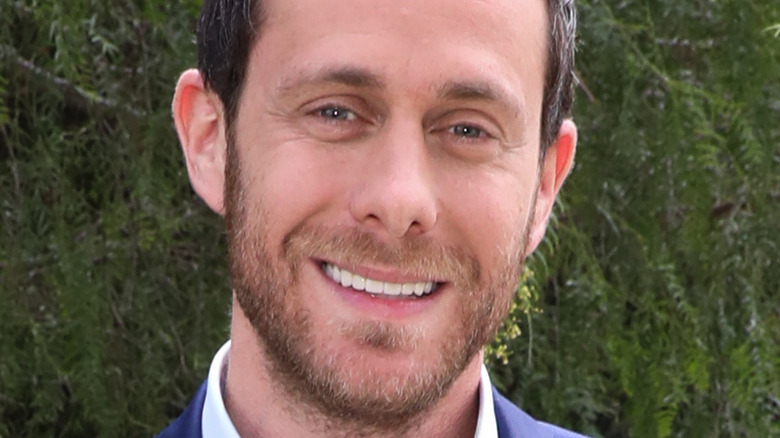 Paul Archuleta/Getty Images
David Parnes has been a familiar face on "Million Dollar Listing" since 2014 (per IMDb). Just who is this Bravo TV star exactly? As IARP detailed, he grew up in London, England. He learned about renovating houses from his parents, admitting, "I've always loved houses, it's been there since I can remember, from day one. So to be able to sell them is great because I get to sell what I love and do what I love." He attended England's University of Manchester and graduated with a bachelor's degree in politics and economics (per Bravo TV). He worked with a hedge fund for a while, but ultimately couldn't resist real estate. In 2009, David moved to Los Angeles with his childhood friend and eventual business partner, James Harris, according to Medium.
They go all-out to please their clients, as they did with a wild party in a 2015 episode. As David wrote for Bravo TV, that became a complicated experience. He loved implementing what his client wanted, but it also threatened his sobriety to a degree. "I've spent nearly seven years dedicating myself to a life of sobriety," he wrote. He further elaborated on how he's grown as a person. "James has borne witness to both my previous life and this one and knows me to be a far more grounded person now," he added. "I would never trade the life I have now for a shot of tequila at a Burning Man-themed party, but that doesn't necessarily make it any less difficult to combat circumstances like this."
Now that we know more details about his journey to get where he is now, what's David's net worth?
David Parnes finds love and great success in Los Angeles
"Million Dollar Listing" stars David Parnes and James Harris founded the firm Bond St Partners and accrued more than $1.5 billion in sales since 2017. That success has allowed David to build an impressive net worth, around $6 million, according to Celebrity Net Worth. As David's Bravo TV bio shared, the partners have broken various real estate records as they have dominated the Los Angeles market. For example, one 2019 sale represented the highest ever in the Holmby Hills area, and another became the highest in Beverly Hills.
David is married to Adrian Abnosi and they have a daughter, India Rose Parnes. As E! News detailed, David and his wife first met in West Hollywood at Cecconi's restaurant. She had lost her mother to cancer just weeks prior, and she explained, "the amount of light and love he has brought into my life is truly unbelievable." They got engaged less than two years after meeting, while visiting Italy in September 2015, and he admitted," I know it may sound cliché, but I'm lucky to have found my soul mate, and I hope that I can be the husband she deserves."
Almost two years later, in July 2017, the couple wed in a small town in France (per E! News). David announced the arrival of his daughter via Instagram in April 2018, and the "Million Dollar Listing" star seems to be living a grand life doing what he loves with people he loves.