Jana Kramer's Tattoos Explained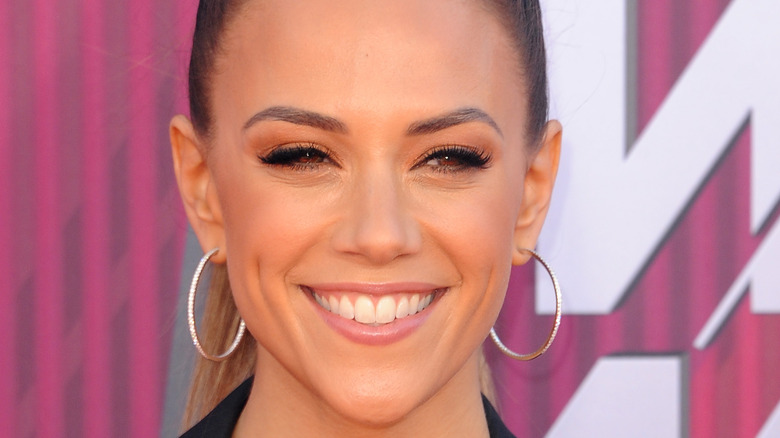 Shutterstock
If there's one thing celebrities love, it's their tattoos. Everyone from Miley Cyrus to Justin Bieber and Travis Barker is covered in them. Then, there are the stars who get ink that means something to them — like Sophie Turner's "W" tattoo for her daughter Willa or Ariana Grande's bee tattoo. More often than not, there's a story when it comes to the tattoos they ink on their body, and Jana Krama is the latest celeb to add meaningful new tats to her collection.
The "One Tree Hill" star debuted two new tattoos via Instagram — one to remind herself of her worth and another to honor her children. Kramer got them just months after announcing she and her husband of six years, Mike Caussin, were calling it quits. "I've fought y'all. I've loved hard. I've forgiven. I've put the work in. I've given everything I have, and now I have nothing else to give," she wrote in April. "I just can't fight any longer. It's time to heal."
Scroll ahead to find out the meanings behind some of Kramer's tattoos, including her new additions and why she's removing two.
Jana Kramer's delicate new ink has a strong message
On July 15, Jana Kramer shared a photo of the new tattoo she got for her daughter Jolie Rae and son Jace Joseph, whom she shares with her ex-husband. Alongside a selfie with her children, she wrote via Instagram: "Movie bound!!!!!! Heading to CT...where should I take the kids?!? Also swipe right to see my new tattoo for kiddos #joliejace." The new ink, which is written in delicate cursive writing, spells out Jolie Jace — her kids' first names.
The actor also got a second, similar tattoo — the word "enough" — on her right forearm. She shared a photo of the ink, as well as opened up about its meaning in a lengthy caption. "I remember when I got my 'believe' tattoo 15 years ago it was the biggest reminder for me to believe in myself," Kramer wrote. "And now what I need most to remember is that I am enough. I am good enough. It's my constant daily struggle so just like what I needed believe to do for me I now need that reminder everyday that I'm enough. ALSO a reminder that I'm strong enough to walk through it all!!" 
She's also strong enough to get rid of some of her old ink. Keep reading for the details. 
Jana Kramer has removed a tattoo she got for her ex-husband
Jana Kramer's new tattoos come just weeks after she revealed that she was getting rid of three of her old ones. They include the date of her wedding anniversary to Mike Caussin and her daughter's Jolie Rae's birth date, which were both located on her arm. The singer shared a video of herself at her laser appointment via her Instagram Stories in June and explained why she decided to have them removed. "What I'm getting removed is obviously the anniversary and then I am also getting the birth date removed because I'm gonna do a Jolie and Jace tattoo in a new area," Kramer said (via People).
It's unclear what other tattoo she had removed, but it could be one of the five known others she has inked on her body since, according to Steal Her Style, Kramer also had a cross on the back of her neck, a feather on her rib, an arrow on her foot, the number "11:11" on her wrist, and the word "serenity" on her other rib.