The Real Meaning Of Jason Sudeikis' Sweatshirt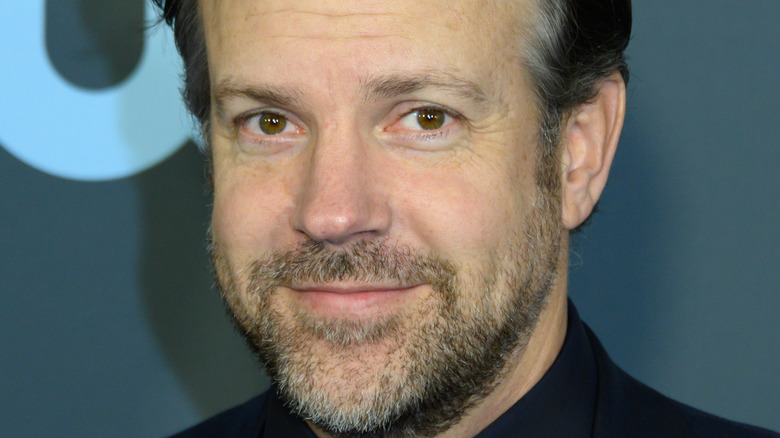 Shutterstock
Jason Sudeikis is quickly becoming the sweatshirt king of Hollywood, and we're just gonna say we are 100% here for it. A year after the actor made fashion history by showing up to the Golden Globes via video conference in an instantly iconic tie-dyed hoodie, the internet is once again abuzz with talk of a Sudeikis statement sweatshirt. This time, the statement is just slightly more literal.
Sudeikis arrived — in person this time — to the Season 2 premiere of his show "Ted Lasso" in West Hollywood on July 15 wearing a black sweatshirt with white text that read, "Jadon & Marcus & Bukayo." Why? If the closest thing you get to caring about British soccer teams is, well, "Ted Lasso," then you might be a tad confused. But Sudeikis actually had an important reason for this particular sweatshirt (even if we question the practicality of wearing a warm sweater in California in July).
So here's the story behind the cozy top.
Jason Sudeikis was sending an important message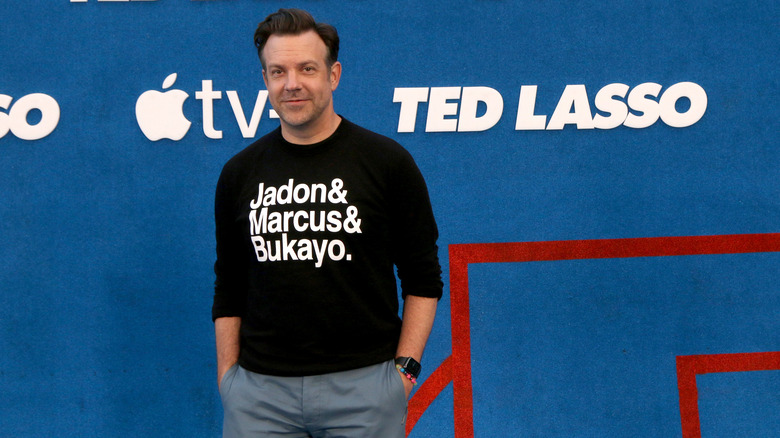 Shutterstock
Jason Sudeikis, who is basically Ted Lasso in real life, wore the sweatshirt in support of Marcus Rashford, Bukayo Saka and Jadon Sancho, three Black players on the England national soccer team after they'd been targeted with racist bullying and attacks. In case you missed it, England narrowly lost the Euro Cup to the Italy last week. Many football (soccer) fans in the U.K. were crushed by the defeat, which is understandable, but some took out their rage in the form of ugly racism and hate directed at the three players. Sudeikis' sweatshirt was a form of showing these players that he's got their backs. Now that's a fashion statement we can definitely get behind.
It's also yet another reason, as if we needed one, we're so excited for the return of "Ted Lasso" — which was just nominated for a whopping 20 Emmys. "I'd rather be the disco ball that light gets fractured off of, and when 20 nominations are spinning around and I play the guy the dang thing is named after, it feels really nice," Sudeikis said in an interview with Variety.
Like we said — Sudeikis just is Ted Lasso.