The Truth About Camila Cabello's Thoughts About Her Weight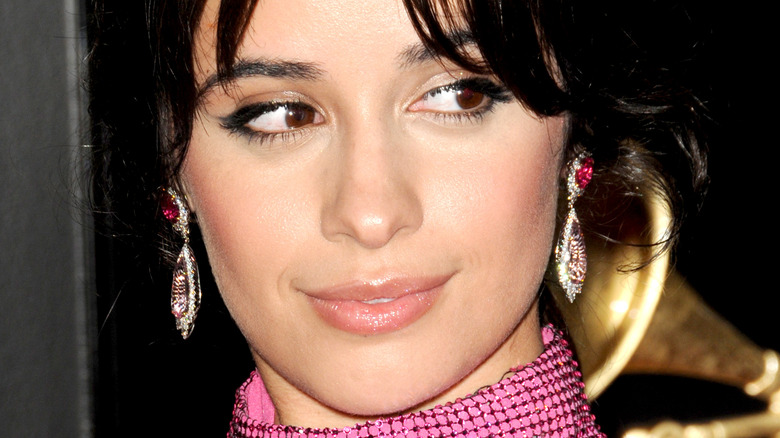 Shutterstock
Camila Cabello is a superstar when it comes to writing and belting out beautiful tunes, as she's produced some of her biggest hits, like "Havana" and "Señorita." But you can also often find the Cuban-American singer and songwriter inspiring her fans in other ways, like when she's opening up about her journey with self-love and body image. As a young woman in the spotlight, Cabello has been at the forefront of a lot of headlines, and she's making sure none of them are negative about her body.
In the past, the Grammy-nominated artist has spoken up about her struggles with body shaming. As she celebrated the two-year anniversary of when she released "Havana" in 2019, she turned the attention from the milestone to educate her social media users. "I haven't gone on social media AT ALL with the conscious intention of avoiding things that hurt my feelings. But [my] eyes accidentally ran over a headline of people 'body shaming me,'" she wrote on Instagram, per BuzzFeed.
Reflecting on how troubling societal norms can be, Cabello pointed out, "The saddest part of young girls growing up in an airbrushed world is [that] they're seeking a perfection that's not real. They're constantly seeing photoshopped, edited pictures and thinking that's reality — everyone's eyes get used to seeing airbrushed bodies and airbrushed skin, and suddenly they think THAT'S the norm?! It isn't. It's fake." Recently, Cabello got candid about her true thoughts about her weight. Keep scrolling for more.  
Camila Cabello embraces her 'stretch marks and fat' while shutting down body-shamers
Camila Cabello wants everyone to know she's a "real" woman. The former Fifth Harmony member shut down the body-shamers while embracing her curves and natural figure in a TikTok video. Cabello took to the social media platform after photos of her surfaced as she was on a run, and she wasted no time calling out others who feel the need to comment on her weight. 
"I was just running in the park minding my own business trying to be fit, trying to keep it healthy," the "Worth It" songstress said in the TikTok clip on Friday, July 16. Panning down to show off her physique in a sports bra and leggings, Cabello continued, "Because I was running and existing like a normal person that doesn't tuck it in all the time. And I was like, 'Damn.' But then I reminded myself being at war with your body is so last season." 
The "X Factor" alum concluded her inspiring video by saying, "I am grateful for this body that lets me do what I need to do. We are real women with curves and cellulite and stretch marks and fat. And we gotta own that, baby." Cabello's message was definitely well-received as fans flooded the post's comments section with messages of praise. One comment read, "Babes you are just so beautiful inside out and out, thank you for being a positive light."