Of All Justin Bieber's Songs, This One Stands Above The Rest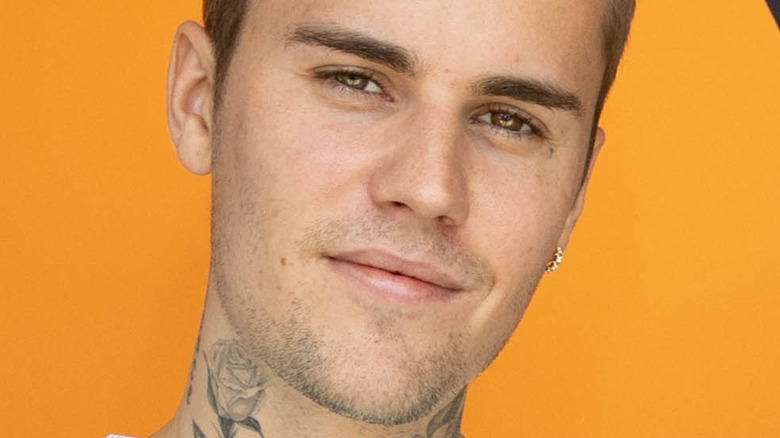 Emma Mcintyre/Getty Images
Justin Bieber's life may seem "peachy," as he releases banger after banger to an adoring and wide-ranging crowd, but for a little while, the singer was "boo'd," per Billboard. Trying to distance himself from the standard, wholesome teen heartthrob, Bieber tried to adopt the familiar and often cliched bad-boy persona in 2013/14. While he shook off his "Baby"-faced image, his almost countless brushes with the law and young adult angst certainly didn't earn him any more fans, per E! News. So the singer, who was the first to reach 500 million music video views on YouTube for his 2010 hit with Ludacris, took a little break from music (per Newsweek) — and it certainly paid off.
All in all, Bieber boasts seven number ones on the Billboard 200 albums chart, has more than 71 million Spotify listeners on average, and is even featured on the world's biggest song of 2017, the Latin Grammy winner "Despacito," per Insider. The remix — which "broke nearly every record under the sun," according to the HuffPost— has almost 1.5 billion plays on Spotify to this day, but isn't considered Bieber's stand-out song. Just a few years before the release of "Despacito," Bieber made the collaboration of a lifetime following a mini musical hiatus, which single-handedly revived his career.
Justin Bieber didn't know Skrillex and Diplo would be involved until the song was finished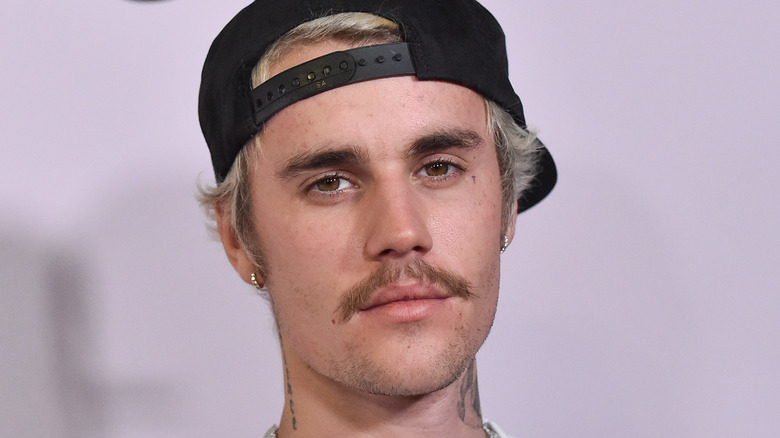 Shutterstock
If "Despacito" is the most commercially-successful track Justin Bieber has ever been involved in, "Where Are Ü Now" would have been his ticket in. Justin Bieber was on the brink of an artist crisis during 2014 and Skrillex and Diplo — known as Jack Ü together — seemingly saved him, despite being very different musical producers.
However, at the time Bieber recorded the tune, which The New York Times called "ubiquitous all summer" of 2015, the singer was unaware anyone else would be attached to it. The then-21-year-old anticipated a more moody and melancholy tone when he sang "take-after-take" of the piano-only version of "Where are Ü Now" for his manager and record label exec Scooter Braun.
Just a week later, a chance meeting at New York Fashion Week saw Braun chat with Skrillex and Diplo about their yearn to also follow a different musical trajectory as they described the dance-music market as "contested and homogenous." With the heavily electronic-influenced pair wanting to tap into pop music and Bieber's need for a breakout, it was like the missing piece of the jigsaw puzzle for both of them. Braun decided to send them Bieber's raw recording of "Where are Ü Now" within "30 seconds" of explaining it — and the rest is history.
The song opened Justin Bieber's eyes to 'a whole new audience'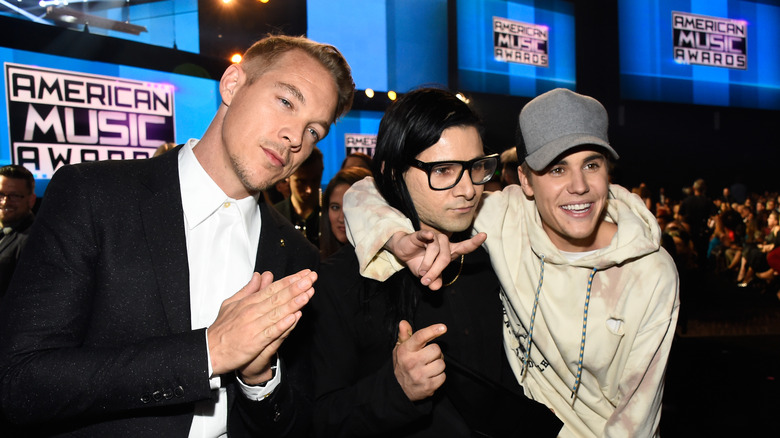 Frazer Harrison/ama2015/Getty Images
While it took just an hour and a half for Justin Bieber to nail the vocals, Jack Ü spent four months trying to get the sound right for "Where are Ü Now," per The New York Times. Once the dynamic duo was done, which meant making it sound "like it's from the future," Braun not only explained the encounter to Bieber, but played back the finished product. "It totally took it to a whole 'nother atmosphere. I totally didn't see that coming," Bieber told The Times. 
Staying true to their dance-music culture, Skrillex and Diplo did no promotional activity, but after Bieber tweeted about the song being "special," it gained traction and began playing on the radio ... to an overwhelmingly positive audience. But it wasn't until Bieber appeared as Jack Ü's surprise guest at the Ultra Music Festival in Miami that he really understood the collab's magnitude. "Everyone's applauding and cheering, and giving me a reaction that I never thought I would get, especially for that type of crowd," Bieber said. "I'm just breaking through as being accepted by the masses and not necessarily a young generation. It opened my eyes to a whole new audience, a whole new platform."
While the final "Where are Ü Now" version was very different from Bieber's anticipated original, it gave him that musical edge, which he tried so hard to achieve by publicly acting out. The Grammy winner previously described the song as "wrong-right" ... and he couldn't have been more correct.