Darcey And Stacey Had A Different Reality Show Before 90 Day Fiance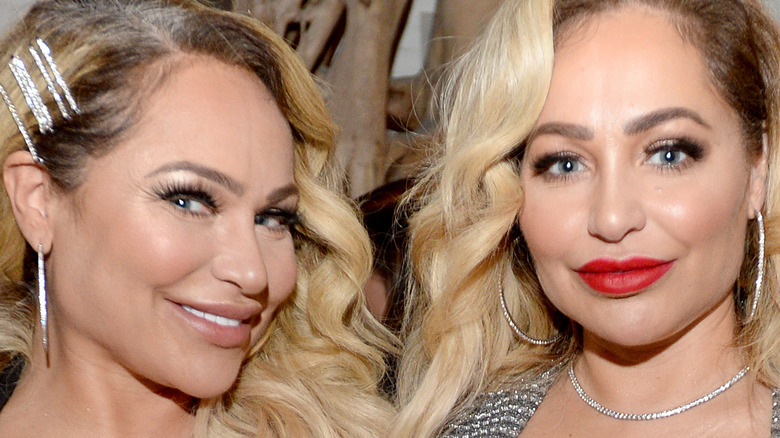 Brad Barket/Getty Images
Darcey Silva and Stacey Silva first shot to fame when Darcey appeared on the hit TLC reality show "90 Day Fiancé: Before the 90 Days." The chemistry between the twin sisters from Middletown, Connecticut was so abundant that they translated it into a spin-off show, "Darcey & Stacey." This reality show follows the Silva twins in their trials and travails with their new men. In Stacey's case, she's now married to Albania native Florian Sukaj. Meanwhile, Darcey is engaged to Georgi Rusev — and as is typical for Darcey, there's nothing but drama galore in store as Georgi is still legally married to his first wife, per ScreenRant, and chatting with Darcey's ex, Jesse Meester, for advice, per E! News. 
But before the Silva twins stole our hearts and — TLC ratings — with their hit show "Darcey & Stacey," they had a whole different reality show — and you won't believe how different they looked. Keep reading to find out more about the reality show the Silvas had before they had a TLC production budget.
Darcey & Stacey's first reality show was called 'The Twin Life'
Recognize those two women in the picture above? That's right — it's none other than Darcey and Stacey Silva before the plastic surgery, veneers, and No. 10 blonde processing. 
Back in 2010, the Silva sisters hired a camera crew to follow them around for a show called "The Twin Life." At the time, Darcey was married to her husband Frank Bollock, whom she introduced as an "up-and-coming rapper," and with whom she shares two daughters, Aniko and Aspen. Fans of "90 Day Fiancé" will recall that Aniko and Aspen periodically appeared in episodes when Darcey was dating Jesse Meester, and appear on episodes of "Darcey & Stacey" from time to time as well, per ScreenRant. 
Stacey was previously married to her husband, Goran Vasic. Stacey and Goran share two sons, Parker and Mateo. But unlike their cousins, Parker and Mateo prefer to keep a low profile, per Distractify. They didn't appear on any episodes of "90 Day Fiancé" and they don't appear on any episodes of "Darcey & Stacey." Though "The Twin Life" never made it to air, we can currently enjoy "Darcey & Stacey" on TLC!