Jeff Bezos Sends Internet Into A Frenzy After Space Landing Comments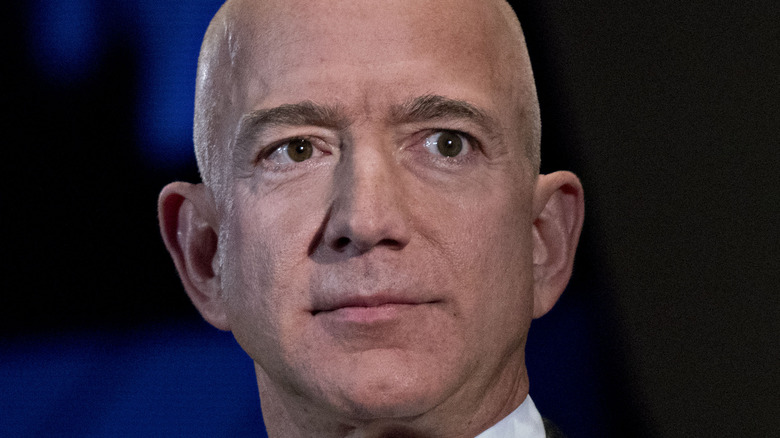 Bloomberg/Getty Images
One small step for man, one giant step for ... Amazon? On July 20, The New York Times reported that Amazon owner and world's richest man Jeff Bezos went to space. According to the outlet, Bezos boarded a rocket and capsule system that his Blue Origin space company had developed, in which he spent approximately 11 minutes traveling to space and back. Also in the rocket were Bezos' brother, Mark Bezos, an 82-year old pilot named Wally Funk, and an 18-year-old high school graduate, making the latter two the oldest and youngest people to ever go to space (via New York Post). "Big things start small. I told this crew when we got in today and we were sitting there on the pad, waiting to lift off ... I said, 'Guys ... when we get up there, there's going to be all kinds of adrenaline, all kinds of excitement, all kinds of novelty, but take a minute," Bezos told the New York Post.
Per The New York Times, the mission was a milestone for Bezos and Amazon, marking the first time a Blue Origin craft had carried passengers to space. Moving forward, Bezos reportedly plans to shuttle the wealthy on more outer space joy rides. It sounds like a good idea (or at least a novel one) — but Twitter had a different take, especially after the multi-billionaire thanked Amazon employees and customers who had "paid for all of this."
The internet wasn't happy about Jeff Bezos' trip to space
Joe Raedle/Getty Images
After returning to Earth, Jeff Bezos celebrated "the best day ever" before thanking those who had made his journey possible. "For every Amazon customer out there, and every Amazon employee, thank you from the bottom of my heart, very much. It's very appreciated," he said (via New York Post). But not everyone agreed with his sentiments, given that the venture was both highly expensive and environmentally taxing. "I will never get over how Jeff Bezos went to space while Amazon employees are using GoFundMe as healthcare," one user tweeted. "Congrats to the private sector for doing something 1/4th as well as a government program 50 years ago," someone else wrote.
Others criticized news outlets for obsessively covering Bezos' space adventure in favor of more pressing news, like climate change and labor abuse. "Jeff Bezos going to space is a good time to remember that Amazon used police violence to harass Black workers in Bessemer, Alabama to stop them from unionizing," Congresswoman Cori Bush tweeted. However, a small sector of people were thrilled to hear that Wally Funk had become the oldest person to go to space. "Wally Funk is pretty much the only reason I can ever consider getting down with this suborbital flight mess, which is probably why she was included and therefore annoying, but doesn't change my opinion," one person posted. At least one other member of the billionaires club, Richard Branson, was supportive of Bezos.