These Are The Questions Donald Trump's Inner Circle Is Scared To Ask About Melania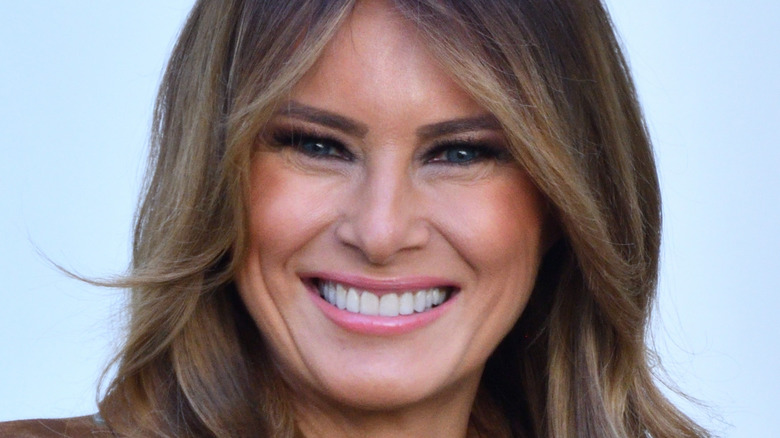 Shutterstock
We may receive a commission on purchases made from links.
Like her husband ex-President Donald Trump, former FLOTUS Melania Trump was a magnet for controversy throughout her years in the White House. Traditionally, first ladies are known for playing more philanthropic roles, supporting their husbands, and occasionally serving as style icons. Melania sort of ticked these boxes ... but maybe just not in the way we were thinking. In 2018, she sent a not-so-subtle message by visiting the Texas-U.S. border in a Zara jacket with the words, "I Really Don't Care, Do U?" written across the back. She also revealed her true feelings about Christmastime, when she was caught on tape complaining about her festive duties. And who could forget that time critics blasted her for plagiarizing Michelle Obama's 2008 Democratic National Convention speech at the 2016 Republican National Convention?
Despite Melania's reluctance to hold her husband's hand, he was one of her biggest defenders. "Our first lady has been a woman of great grace and beauty and dignity. And so popular with the people," he complimented in January 2021 as he left office and prepared to board Air Force One (via Newsweek). Despite Donald's comment directly contradicting Melania's historically low popularity rating, no one asked any questions. In fact, not asking questions about Melania seemed to be a hallmark of his presidency. But now, bestselling author Michael Wolff's new book "Landslide: The Final Days of the Trump Presidency," is getting people talking about the pair — so what are they asking?
The Trumps' marriage is... confusing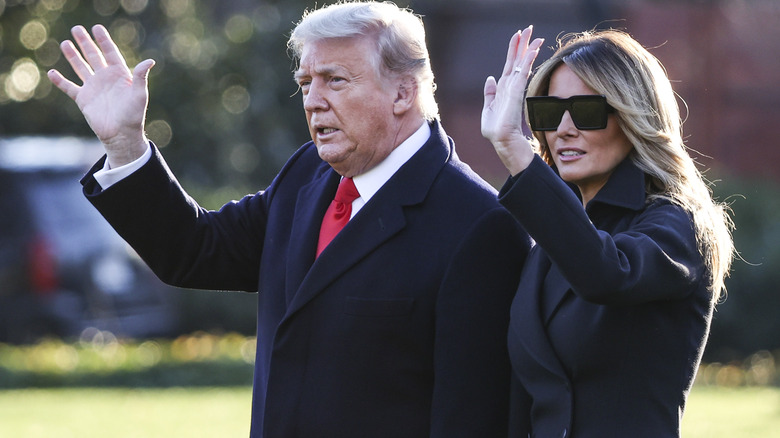 Tasos Katopodis/Getty Images
Donald and Melania Trumps' lack of PDA and occasionally frosty interactions have long led people to suspect their marriage might not be a happy one. Author Michael Wolff, who interviewed the couple for his book, offered his insight to the Daily Mail in July. "Nobody really knows where Melania lives," Wolff shared with the outlet. "She is not with him a lot of the times. This was true when he was in the White House and it's true now."
Per The Washington Post, Melania chose to stay in New York City with the couple's son, Barron Trump, for several months after Donald relocated to Washington, D.C. Under the Trump administration, Melania and Donald often flew solo, with the outlet reporting they "spend very little to no time together." And even after leaving office, rumors about Donald's marriage have persisted. "People around Trump still have questions, but they don't want to ask those questions," Wolff explained to the Daily Mail. "It remains the third rail that nobody wants to touch." 
Biographer Mary Jordan — who penned "The Art of Her Deal" about Melania in 2020 — called the pair's love story "ultra-complicated." Acknowledging she doesn't know "any couple that spends as much time apart," Jordan concluded that they have an unusual bond. "And yet, she's the first call he makes after a speech or a rally, because he trusts her — and he doesn't trust many people," she told The Guardian.