Darcey Silva's Relationship History Explained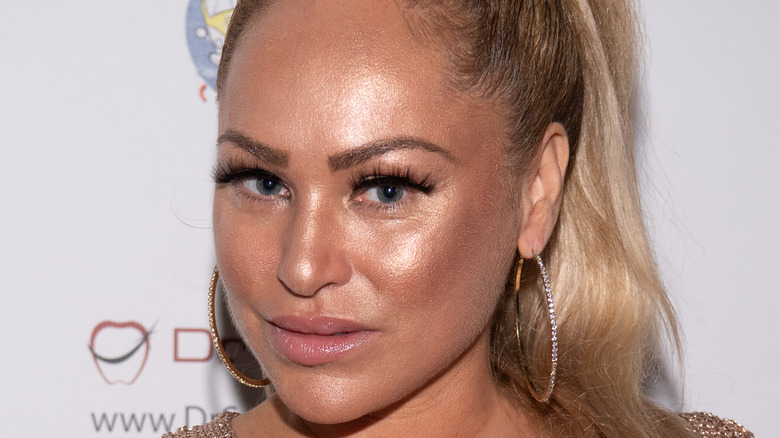 Dave Kotinsky/Getty Images
Now that she's found her true love in Georgi Rusev, we can't help but cheer on our girl, Darcey Silva, from "Darcey & Stacey." Back in October 2020, Darcey told People that she truly felt she found her soulmate when Georgi asked her to marry him. 
"I still feel newly engaged. I haven't been able to really celebrate it yet with everybody. I want to be able to shout it to the world," she told the outlet. "It was definitely a total surprise for me. Georgi and I have a very deep connection, and I feel like in that moment I was not expecting it at all," she gushed.
But, like the rest of us, Darcey has a relationship history deeper than just her forever love with Georgi. And, at some points, fans were truly left wondering if Darcey could find true love at all. Let's take a look at the truth behind Darcey Silva's dating history.
Darcey Silva has had a few public relationships
There was a time when Darcey Silva was just a married woman from Connecticut. At that time, she was married to a man by the name of Frank Bollock, with whom she shares two daughters, Aniko and Aspen. We first got a glimpse of Frank in the super-trailer of Darcey's first-ever attempt at reality TV, called "The Twin Life." In the trailer, Darcey referred to Frank as an "up-and-coming rapper," whom she met in New York, and Frank referred to Darcey as his "number one fan." Unfortunately, their marriage ended in divorce. 
Darcey's most infamous relationships came courtesy of "90 Day Fiancé." Her most high profile relationship was with Dutch model and actor Jesse Meester (seen above), and though the pair had amazing chemistry, their relationship was volatile, to say the least. Jesse accused Darcey of abusing men for fame in an Instagram comment under the June 2020 announcement of her new show, per The Blast. "She only had to use, abuse and manipulate 5 guys to get what she wanted all along from the network. Eithics (sic), TLC?" he slammed. He also claimed that he was her "sugar daddy."
Then came her relationship with Tom Brooks. Unlike with Jesse, Darcey had absolutely no chemistry with Brooks. Fans grew suspicious of their relationship, and accused Tom of using Darcey for fame, per ScreenRant. Thankfully, Darcey got rid of the zeroes and got with her hero, Georgi Rusev!