How Blake Shelton And Gwen Stefani Really Spend Their Millions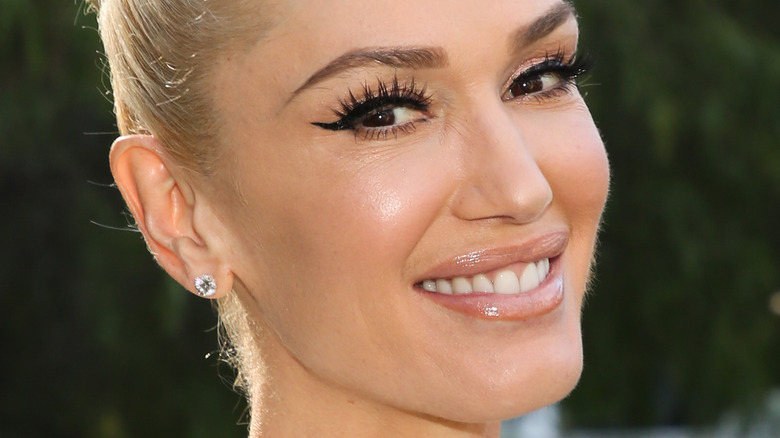 Paul Archuleta/Getty Images
Gwen Stefani didn't sing about being a "Rich Girl" for nothing. The iconic pop singer is worth an estimated $150 million, but ever since she began dating country music's highest paid star, Blake Shelton, her net worth almost doubled. The now married power couple's combined wealth is valued at a jaw-dropping $250 million — meaning the pair could don diamond-encrusted cowboy boots if they so desired. While they reportedly live a "bit more low key" than other celebs (per The Richest), perhaps in accordance with Shelton's laid-back lifestyle, they do splash out occasionally ... because, well, they can.
Like serendipity, Hollywood's most talked about couple met as coaches on "The Voice" back in 2014. They were both enduring their own highly publicized divorces, Stefani to Bush frontman Gavin Rossdale and Shelton to country star Miranda Lambert. Stefani told Howard Stern in 2016: "Unbelievable that God would put us in a position to have each other at that moment, in the same exact moment." 
In the early seasons of "The Voice," Shelton was reportedly pulling in $4 million per cycle, but according to FOX Business, he now earns a cool $13 million per season. Perhaps his pay raise had something to do with his ratings-winning chemistry with Stefani, which Republic World said was "adored by fans." While it's unclear how much Stefani earned per season, the star who's now taking a break from "The Voice," scored something one can't put a value on — love. But this love has bought her just a few thoughtful and expensive gifts.
Gwen Stefani's engagement ring is worth an estimated $300,000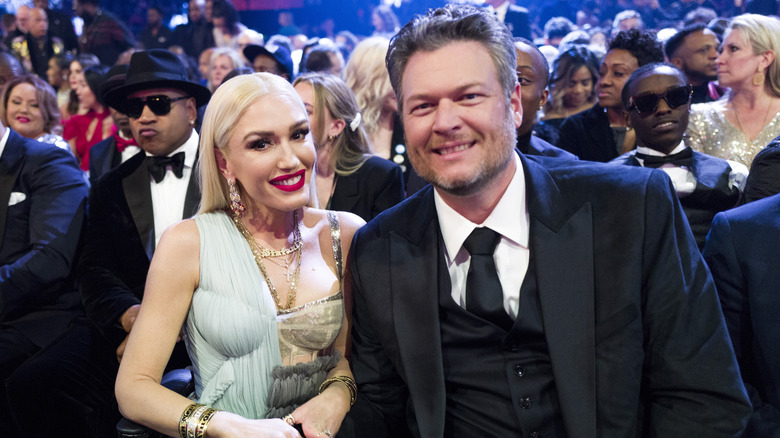 John Shearer/Getty Images
There's no doubt that Gwen Stefani has received some serious bling since she began dating Blake Shelton. In 2017, Shelton spoiled Stefani with a diamond Cartier necklace worth more than $60,000, per The Richest. When she turned 51, Shelton gifted her another flawless diamond necklace shaped as the number five to represent the years they had been together. From jewelry to real-estate, Shelton then casually dropped $13 million in 2020 on a Californian mansion for Stefani so she could spend more time in her home state. At the beginning of the pandemic, Stefani and her three sons moved to Shelton's sprawling Oklahoma ranch, where he even bought her a "very expensive horse" to ride! And, because she "ain't no Hollaback Girl," Stefani has also spent big on Shelton. For his birthday, she splashed out $50,000 on gifts alone, including a $30,000 vintage watch and two bikes worth $10,000 each.
But the most luxe purchase would have to be Stefani's dazzling diamond engagement ring. Per Refinery29, Andrew Brown, CEO of WP Diamonds, estimated the oval-cut, six or seven-carat stunner to be worth between $250,000 and $300,000. While a flashy ring may be telling of a future fancy celebration — Newsbreak estimated Shelton and Stefani would spend approximately $10 million on their wedding — think again. The pair actually had an intimate ceremony on July 3 at Shelton's ranch ... in a chapel he sweetly built himself, per Elle. But, to add just a little glamor to the day, Stefani wore two custom-made Vera Wang outfits estimated at $15,000 in total, per Brides. Let's be honest, a bride has got to look her best, right?!