The Gilmore Girls Co-Stars Alexis Bledel Dated During The Show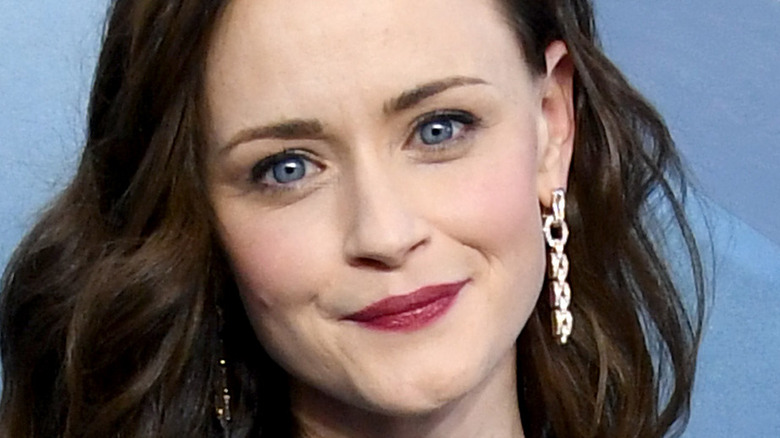 Jon Kopaloff/Getty Images
On "Gilmore Girls," Rory Gilmore (played by Alexis Bledel) struggled to find the partner of her dreams. That was also the case in the four-episode Netflix run of "Gilmore Girls: A Year in the Life." Throughout the series, Rory dated a handful of handsome, flawed men during her teen years — and it turns out actor Bledel did a bit of the same in real life.
Bledel never found her soulmate among her fellow "Gilmore Girls" castmates. However, she did fall in love and marry a co-star from another series. As E! Online detailed, Bledel met actor Vincent Kartheiser during her time on "Mad Men." (In 2012, Bledel appeared as Beth Dawes and had a steamy affair with Kartheiser's character Pete Campbell, per Slate.)
In October 2012, Bledel and Kartheiser, who are fiercely protective about their private life, made their red carpet debut as a couple, per E! Online. An engagement came soon after, and the two got married in August 2014. The private love story continued as Bledel and Kartheiser welcomed a baby boy in the fall of 2015, after never revealing her pregnancy. In fact, "Gilmore Girls" co-star Scott Patterson (who played Luke) was the one to reveal the news, although that may not have been his intent. While filming "A Year in the Life," he told Glamour Bledel had "really blossomed as a woman and now she's a proud new mother and married and happy."
But before her happily ever, Bledel dated several of her "Gilmore Girls" co-stars.
Sparks flew for Alexis Bledel on the 'Gilmore Girls' set
Alexis Bledel dated multiple "Gilmore Girls" actors before marrying Vincent Kartheiser, "Gilmore Girls" casting director Mara Casey told Life & Style. Although Bledel never flaunted her love life too much, it is public knowledge she dated Milo Ventimiglia. In fact, Bledel and Ventimiglia dated for nearly four years. It addition, Bledel kept another relationship with a co-star incredibly quiet. Bledel also dated Jared Padalecki (Dean Forester) in real life during Season 1, Padalecki revealed to Glamour. "We were two 17-year-old kids who were like, 'Hey, you want to go bowling?'" he recalled. "It wasn't anything super juicy."
It turns out there was even a third romance between Bledel and a "Gilmore Girls" co-star. No, she apparently never dated Matt Czuchry (Logan Huntzberger). Rather, it was Chris Heuisler who wooed Bledel. As Heuisler noted on Instagram, he appeared in the Season 2 episode "Secrets and Loans," playing a bit part as a character named Peter. His role may not have been memorable, but he seemingly charmed Bledel enough for the two to test the waters of a romance. 
"We did have a joke about casting all of Alexis' [real-life] boyfriends," the casting director teased. "She dated Jared and Milo. And she also dated a young New York actor named Chris Heuisler, who played a guest role. Real sweet kid," Casey continued. Bledel never found her soulmate on "Gilmore Girls," but she certainly seemed to have fun looking.