What We Know About Floyd Mayweather And Anna Monroe's Reported Split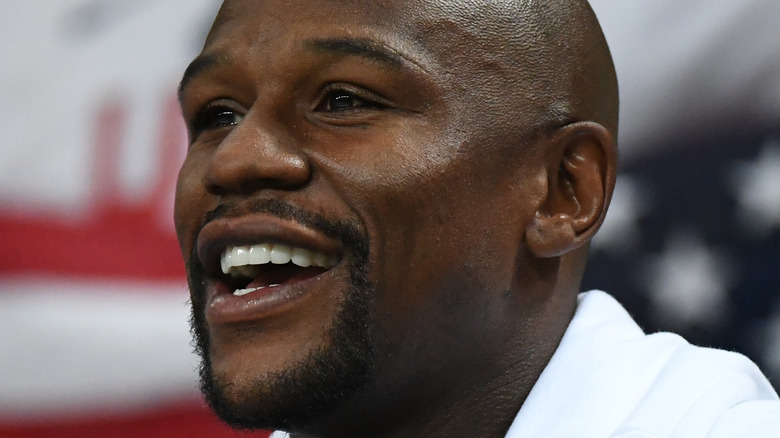 Shutterstock
It has been an unconventional relationship for Floyd Mayweather and rumored fiancée Anna Monroe... and it might already be over. 
But first, let's recap this romance. Monroe met Mayweather after auditioning at his Las Vegas strip club Girl Collection (where she is now the "lead girl" per The Sun), and they've been documenting joint vacations far back as 2018 on their Instagram accounts. "They have been seeing each other on and off for a while, whenever Floyd decides," an insider shared with the outlet before dropping this bomb: "Now Floyd wants another child he only wants Anna to be the mother." Cut to October 2020, when Monroe sported a diamond-studded ring on her left ring finger in an Instagram photo, causing speculation a wedding was in the works. Mayweather denied the rumors in a since-deleted Instagram post (via the Daily Mail), declaring, "I'm not engaged and have never been engaged or married, those are just rumors and lies." Although the nuptials didn't happen, the relationship reportedly continued.
So, was Mayweather's denouncement of Monroe engagement rumors the cause of their supposed July split? Keep reading to find out what might have driven the final wedge in their relationship.
Did Floyd Mayweather flaunt his ex in Anna Monroe's face?
Anna Monroe is reported to be "completely done" with Floyd Mayweather after seeing paparazzi photos of her off-and-on beau walking through New York City on July 20, with his arm draped around ex-girlfriend Gallienne Nabila. Mayweather, who dated Nabila in 2019, supposedly drove away in an SUV with his ex, The Sun reported. Hmm. 
A source divulged to the outlet that Monroe thought she and the ex-boxer would start a family soon, complete with wedding rings. "Anna is devastated," the insider told The Sun, claiming Monroe had even visited a wedding planner. "She feels like she gave him everything. After seeing the pictures she lost it... She even called him a 'tramp' and accused Floyd of always hanging out with other women behind her back." Mayweather's seemingly hot-and-cold approach to romancing Monroe is not without precedence. Just ahead of his June 6 exhibition boxing match against YouTuber Logan Paul, he had allegedly asked the blonde to vacate his Las Vegas home, per the Daily Mail. (Monroe moved back into her own apartment, per the outlet.) As a source explained to The Sun, "Floyd asked Anna to move out because he wants to focus on his boxing as he prepares for his next fights." 
As Mayweather is still Monroe's employer, wouldn't this latest development complicate things for the erstwhile couple at their next workplace face-to-face? Awkwaaaard...