Phoebe Dynevor's Younger Sister Looks Just Like The Famous Star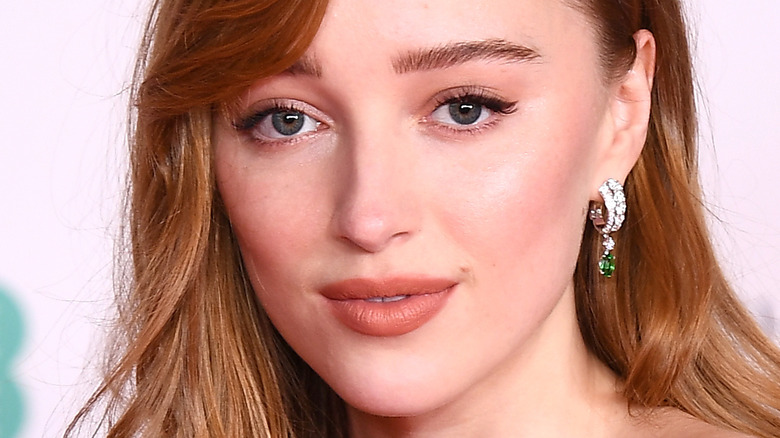 Jeff Spicer/Getty Images
If you've watched "Bridgerton" (and are eagerly awaiting the second season of the sizzling series as well as the surely eye-popping prequel), then you'll be familiar with Phoebe Dynevor, who plays Daphne Bridgerton. However, did you know that she's not the only actor in the family? Indeed, Phoebe's mom is Sally Dynevor who is famous for her work on "Coronation Street" as, well, Sally.
Away from work, Sally is the mother of Phoebe as well as her other children, son Samuel and daughter Harriet, who she shares with her husband, "Emmerdale Farm" writer Tim Dynevor, per IMDb. On June 23, Sally hopped onto Instagram to share a photo of herself and her younger daughter while taking to the caption to write, "Home from a wonderful trip away, with wonderful family and friends." She added the hashtag "#gratefulthankfulblessed."
While that's certainly sweet on its own, the lovely message wasn't the only notable thing about the post. Sally happened to be posing with Harriet, who, it turns out, shares a strong resemblance with Phoebe. Although they're not exactly twins, there's no doubt that these two are siblings! Keep scrolling to check out just how much Harriet looks like her famous big sister.
Harriet Dynevor is already an Instagram star
If Phoebe Dynevor ever needs a lookalike stand-in or someone to play a slightly younger version of herself on screen, then we definitely know who to call: Her sister, Harriet Dynevor. When their mom, Sally Dynevor, shared a photo of herself and Harriet on Instagram, it became pretty clear that the sisters share quite a few features. Those eyes! Those cheeks! That chin!
Harriet, who goes by Hattie according to her Instagram account, has already built up quite a fanbase of her own, with well over 10,000 people following her on IG, even though she's still just a teenager. Those who regularly check out her posts have probably already realized how much she looks like her sister, whether she's chilling by the water, posing with art, or just smiling for the camera.
Does this mean that Hattie will follow her sister Phoebe and her mom Sally into the family business and become an actor as well? So far, it doesn't look like Hattie has landed any acting gigs, but considering she clearly shares her sister's camera-worthy looks and already has a sizable social media following, it might just be a matter of time before the younger Dynevor takes on her first role.