Are Damian And Giannina From Love Is Blind Still Together?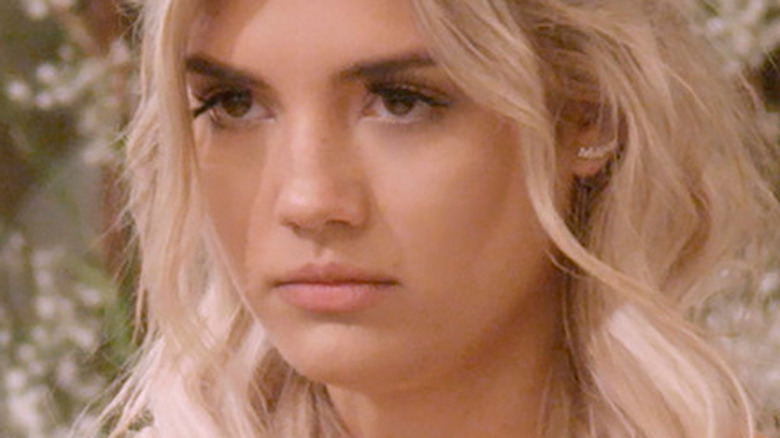 Netflix
The first season of Netflix's dating show "Love Is Blind" introduced viewers to Damian Powers and Giannina Gibelli. The unlikely duo connected under the premise of getting to know one another without seeing each other. Once they met face-to-face, they forged forward in giving their relationship a shot. Their dynamic was a volatile one at times, but they made wedding plans alongside several other "Love Is Blind" couples. The wedding contained some stunning moments, and Damian and Giannina also had shockers to share in the reunion show. Now, more than two years later, fans wonder if Giannina and Damian stayed together.
Damian and Giannina frequently argued during the time they spent in person, and plenty of "Love Is Blind" viewers thought they were mismatched. Despite the numerous hiccups the duo experienced, Giannina walked down the aisle prepared to marry Damian. As cameras filmed the wreckage, she was blindsided by his decision not to marry her. 
But despite that stunning moment, they ended up reuniting. As Giannina told Grazia in May 2020, "It just didn't feel like our story was done in terms of, 'can we be friends?'" Soon after the wedding, they "talked all night" and decided to give their relationship another shot. Now that a fair amount of time has passed, fans are curious to know if the "Love Is Blind" stars are still together now.
Damian and Giannina from Love Is Blind have played coy about their relationship status
In April 2020, Damian Powers and Giannina Gibelli told Bustle they lived "five minutes" apart and were together often. She explained they had found "a very positive balance" and admitted, "It's just nice to have that person that feels like you're home right next to you." Once the "Love Is Blind" pair could go public, they posted sweet thoughts about one another on social media. For Giannina's April 2020 birthday, Damian took to Instagram and wrote, "Happy Birthday My Love!" He added, "I hope to be by your side for many more and look forward to all the adventures we have yet to embark on!" And in a July 2020 Instagram post, Giannina raved about "doing life with you."
But months later, things may have changed. Giannina's last Instagram post that included Damian was in September 2020, and his last Instagram upload including her was in October 2020. "Love is Blind! So incredibly lucky and blessed to have grown with you over these past two years! Thank you for doing life with me," he wrote at the time. 
Those last photos came shortly after Damian was seen with Francesca Farago of "Too Hot to Handle" and subsequently denied there was any romance between them (per E! News). Of course, the couple will provide updates during "Love Is Blind: After the Altar," on Netflix July 28, per TV Insider. Could Giannina and Damian still be together? Answers will come soon enough.