The Truth About Tom Selleck's Famous Mustache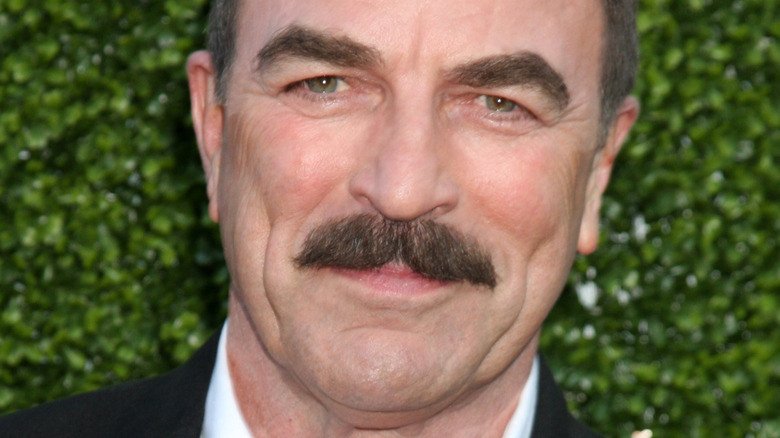 Shutterstock
Tom Selleck is best known for his role in "Magnum, P.I" in the 1980s, but did you realize he has been on "Blue Bloods" for even longer? "Magnum, P.I." ran from 1980 to 1988, while "Blue Bloods" has been on the air since 2010 (per IMDb) and is still going strong.
Selleck has been acting since the late '60s and along the way, well, the man has aged like fine wine. Today, at 76, Selleck still looks like the man he was in his 30s and 40s when he was playing "Magnum, P.I." And who can forget his role on "Friends" as Monica's sexy but much older boyfriend, Dr. Richard Burke?
Over the years, Selleck has appeared in a number of long-running television shows, feature films, and his recurring Jesse Stone series of movies. His famous mustache has been a part of it all – in fact, you could say his signature bushy mustache set him apart from his peers and contributed to his many successes throughout his career. Having such a distinctive mustache is a choice, for sure, and one Selleck has committed to over the decades. Let's take a look at the truth about Tom Selleck's famous mustache.
Tom Selleck has gotten a lot of questions about his mustache
Shutterstock
When Tom Selleck rose to fame in the early 1980s on "Magnum, P.I." it was during an era when having a mustache was fashionable for men. Take a look through photos of famous men from the '80s and you'll find quite a few with mustaches, including the late Alex Trebek, singer Lionel Richie, and the late Freddie Mercury, per People. 
Technically, Selleck's current mustache is a chevron mustache (per Outsider), which over the years has also come to be known as the Selleck mustache. It even has its own Facebook page and the social media site designates Tom Selleck's Mustache as a public figure. Even his bosses want Selleck to rock the 'stache. In 2017, Selleck revealed that a director on "Blue Bloods" wanted him to shave his mustache. The show's creator checked with the network to see if that was OK and CBS basically declared, "Tom has a mustache," Selleck said (via YouTube).
Selleck also revealed that he likes accuracy in his characters, so for his "Blue Bloods" character as a police commissioner, he said he researched whether someone in that job can have one or not. But as for when he realized his mustache was part of his persona, he doesn't remember how it happened, but he said, "After Magnum, I realized I was going to have to live with mustache questions for the rest of my life."