Are Barnett And Amber From Love Is Blind Still Together?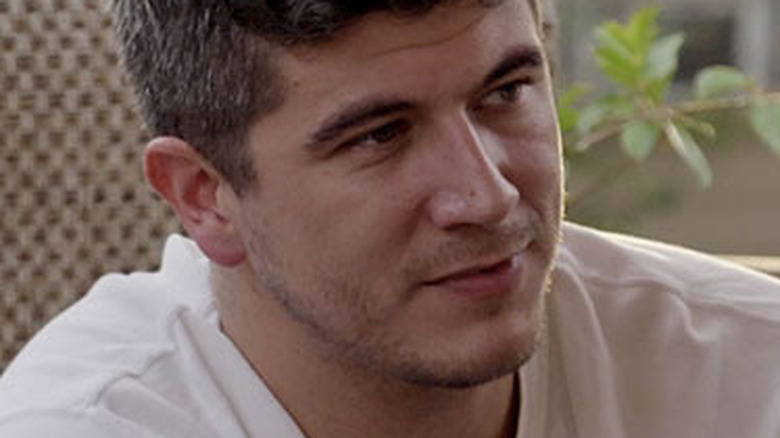 Netflix
The debut season of "Love Is Blind" on Netflix was filled with plenty of shockers. The premise was that strangers would get to know one another, fall in love, and get engaged before ever seeing one another. As unlikely as it may have seemed, the process worked for a few contestants. One unlikely pairing was Amber Pike and Matt Barnett. They tied the knot during "Love Is Blind," but did the marriage last?
Barnett and Amber quickly developed some intense chemistry. They started out casual and flirty, and at the same time, he'd gotten pretty serious with Jessica Batten. There were tense moments as Barnett distanced himself from Jessica and moved forward with Amber. Despite some hesitations, Amber and Barnett got hitched while filming "Love Is Blind."
Amber and Barnett admitted it wasn't all smooth sailing from there, though. As they said on the reunion episode (via Harper's Bazaar), they both tended to be quite stubborn, and there were real-life differences to work through. "I know there was one point where we almost broke because we had such expectations of what we wanted out of a husband and wife," Amber detailed. She added it was challenging, "because when we were still in the bubble on this show, we hadn't really butt[ed] heads at that point, because everything was just so perfect." Barnett explained they "stopped trying to force what we wanted on each other," and "Love Is Blind" fans want to know if they stuck together from there.
Amber and Barnett prove that love really is blind
One look at the Instagram pages of "Love Is Blind" stars Amber Pike and Matt Barnett reveal they remain happily married. In promoting "Love Is Blind: After the Altar" on Instagram, Amber teased that they "had quite the celebration for our anniversary" while filming the reunion. Both "Love Is Blind" stars frequently show one another on their respective social media pages, but they still get questions about whether they've split.
In a May TikTok video, Amber joked that they struggle to take decent pictures because they're both "inappropriate dorks." A TikTok post from November 2020 included a montage of their two years together, and Amber acknowledged that people doubted they'd make it. She admitted it hadn't always been easy but added, "I don't know about you guys, but I think something this special is worth the work."
Barnett makes it clear he's still head-over-heels for his wife, too. He noted in a June Instagram post, "I'd drive a few hours to go kayaking with you any day." Another of Matt's post captions read, "I wouldn't want to be soaking in the rays with anyone else, anywhere else." Given the fact Barnett and Amber's status as a happily married couple isn't hidden, "Love Is Blind" fans will be curious to see if any surprising updates come during the reunion show.