Here's How Hoda Kotb Kept Her Fiance's Identity A Secret For So Long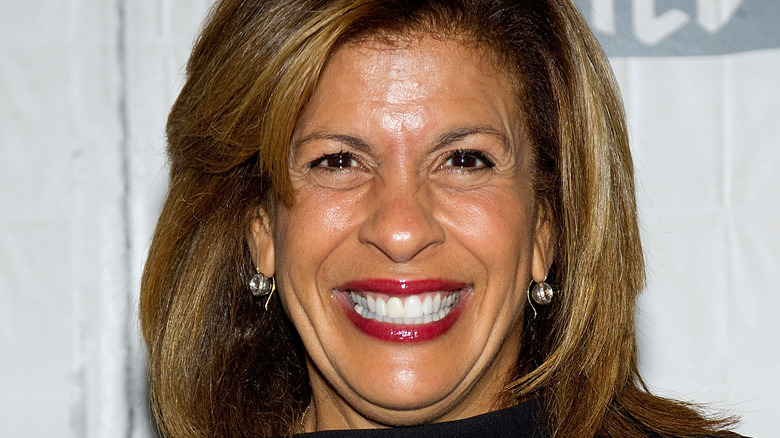 Shutterstock
Hoda Kotb is so in love with her soon-to-be-husband, Joel Schiffman, she can't help but shout their enviable romance from the rooftops. The "Today" show star and her longtime love have been going strong since 2013, and hopefully, it won't be long before they officially say "I do." Kotb and Schiffman announced their engagement on Instagram in November 2019, revealing that the financier popped the question during a luxurious beach vacation.
"I have to tell you something that a friend of mine, a friend of ours, asked me to let you guys in on a secret. I'll give you her initials. Her initials are Hoda Kotb, and she's engaged," the TV personality shared during a November 2019 episode of "Today." As she showed off her stunning diamond ring, Kotb recalled how she was "totally shocked" when Schiffman asked for her hand in marriage. "He said some beautiful things and then he got down on one knee," Kotb remembered. "Then he said, 'Would you be my wife?'"
Since becoming a couple, the "You Are My Happy" author and Schiffman have created a beautiful family together, becoming the parents of their adopted daughters, Haley Joy and Hope Catherine. Kotb often shares their adorable brood on social media by uploading pics of Schiffman and their girls. However, the Emmy winner hasn't always been so open about flaunting their love story, as she actually kept Schiffman's identity a secret for quite some time. To find out how Kotb concealed their relationship, keep scrolling. 
Hoda Kotb referred to Joel Schiffman by a secret nickname
Hoda Kotb knows it's not easy to manage a life in the spotlight, especially when it comes to details of a relationship. That's why she kept fiance Joel Schiffman's identity a secret when they first started dating almost a decade ago. The NBC anchor told Bethenny Frankel in 2014 that she kept the early days of their romance as low-key as possible because "some things, if you keep them private and quiet, they actually flourish."
In order to give their relationship time to "grow," Kotb did everything she could to conceal her beau's identity — including giving him an endearing nickname. The "I Really Needed This Today" author revealed she used to call Schiffman by the moniker "Boots." "Here's the thing ... you know when you're keeping something so close to the vest? And I have kept this so close to the vest, I didn't even say his name," she shared on "Today" (via Closer Weekly). "We called him 'Boots' forever because we just showed his shoes [on the show]."
Schiffman's identity was eventually outed when pics of the two on a beach vacation surfaced in 2015. Fortunately, both Kotb and the businessman had no qualms about the release of his identity. "It's almost been two years, so you know what we decided: Why not? Joel is out from the shadows!" she said on "Today," via Good Housekeeping. "I feel some relief. I talked to him and he said, 'Who cares?' Who cares!"