The True Meaning Behind 'Memory' By Kane Brown X Blackbear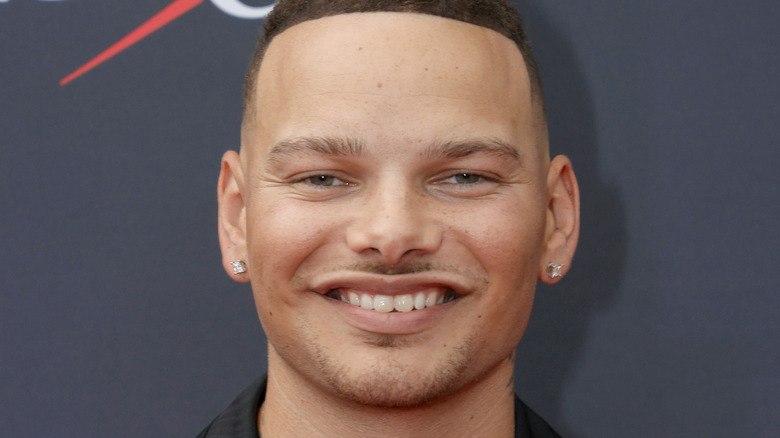 Michael Loccisano/Getty Images
Country star Kane Brown continues to collaborate with non-country music artists, with his newest duet being with Florida-based pop producer and singer-songwriter blackbear. Brown, who recently worked with pop stars Becky G and Camila Cabello, teamed up with blackbear for "Memory" on July 9. While Brown is a country artist, the mid-tempo track is jiving with pop charts and has even entered the Top 50 on Billboard's Hot 100.
Brown, who already has five No. 1 Country airplay singles, made history as the first Black male solo country artist to perform at the BET awards, per CBS Miami. Yet despite his successes, Brown has no plans on slowing down. He revealed to the outlet, "This has been amazing for me, I haven't really looked at anything or taken in any of my accomplishments ... I'm just trying to work hard and keep growing."
As for "Memory," while the song may have an upbeat sound, the lyrics deal with more serious issues like depression and anxiety. Brown explained to Z100, "Honestly this song to me is going to go a bunch of different ways for people." He added, "It's kind of like a happy depression song ... It's just an uplifting song to find out you're not the only one." He also revealed how, when making the song, he bonded with blackbear over mental health, adding, "We know that we have each other to talk to." It's clear the song means a lot to both artists.
Kane and blackbear aren't afraid to get real on 'Memory'
In their new song "Memory," country star Kane Brown and pop artist blackbear sing about the anxiety that comes with living a fast-paced lifestyle and the worry that it will eventually catch up with them. The chorus demonstrates this feeling, as well as the fear that they won't be able to stop their hard-partying ways on their own, when they sing, "I wanna live life fast, I don't know how to slow down. Wanna get high, I don't know how to come down. Help me now, I'm running on empty and I don't wanna be a memory."
Brown continues to ask for help with this battle, explaining in his verse, "Bottles on the shelf, I'm 'bout to run through. Doing everything I wish that I can undo. I'm not myself and why won't no one help? I know this can't be healthy so I'm looking for a way out." blackbear then touches on using substances to numb his emotions by singing, "I'ma roll my feelings in a joint. Pieces of the story that got left out. I checked out," adding that he's "running from the pain."
Both artists appear in the music video for "Memory" as astronauts and seem to use outer space to depict these feelings of loneliness and isolation. Hopefully, Brown and blackbear can use this track to reach out to fans to show that they're not alone, either.
If you or someone you know is struggling with mental health, please contact the Crisis Text Line by texting HOME to 741741, call the National Alliance on Mental Illness helpline at 1-800-950-NAMI (6264), or visit the National Institute of Mental Health website.