Who Is Stacy London's Girlfriend, Cat Yezbak?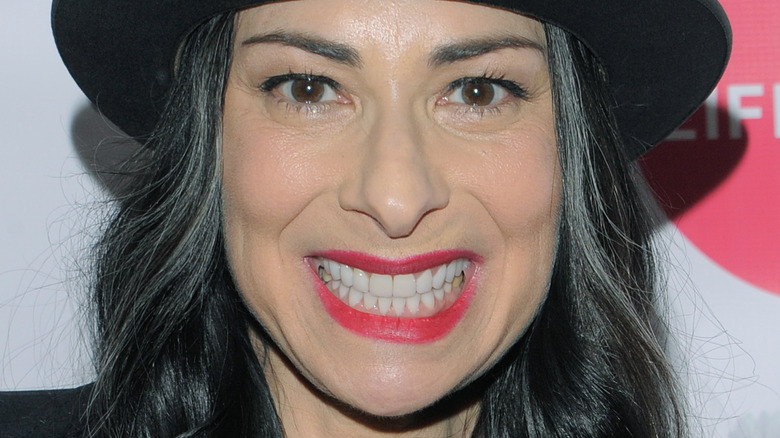 Shutterstock
Stacy London is best known for her role in "What Not to Wear." While Stacy posts a variety of topics on her Instagram page, she made headlines in December 2019 by sharing a meme on Instagram of herself and her girlfriend, Cat Yezbak. Stacy accompanied the post with a lengthy caption, opening with, "NOT THAT IT'S ANY OF YOUR BUSINESS BUT," as she introduced her girlfriend to the world. "This 1st year of coping with grief and a lot of unforeseen health issues was, at times, such a truly dark place to be," she wrote. "But as with most of life, there has been such incredible joy as well, and the person most responsible for that is @catyezbak, who is my girlfriend and has been for over a year."
London speculated that many people had already guessed that she and Yezbak were dating. She also wrote that her family and friends already know Yezbak very well, and listed a few reasons as to why she hid the relationship from the public eye. "But I want to be clear here that with Cat I felt I owed us the chance to be private since this is my first serious relationship with a woman and I'm sure there will be some hoo ha about that," she stated, adding that she did not hide the romance out of shame.
Since the initial post, Stacy has shared plenty more updates with Yezbak. So who is she? Keep scrolling to find out.
Cat Yezbak has a gifted voice
It's no secret that Stacy London is smitten with the woman in her life — but who exactly is Cat Yezbak? According to Gossip Gist, Yezbak is a musician from Ireland. In the bio of her Instagram page, Yezbak shares that she also does voiceover work. She shares plenty of photos with her girlfriend by her side, and the duo seems to be over-the-moon for one another. "I'm gay as the day is long and cannot believe my luck that I get to spend those days with you. @stacylondonreal I love you more than salt," she wrote alongside a photo of herself and Stacy in October 2020. Seriously, how cute are they? Yezbak also uploads a lot of shots of her beloved pup and it's easy to see that she's a big animal lover. "To say I'm living my best life would be a grave understatement," she wrote in an April Instagram post which included a picture of herself and two dogs.
In a May 2020 interview with People, Stacy raved over what a remarkable person Yezbak is, which she noticed before they began dating. "Even when we weren't dating, she was so supportive, and knew my dad was sick, and even came to the funeral," she raved. "I knew that I was lucking out by meeting somebody who was smart and compassionate and so kind." 
We love this sweet couple and hope that they continue sharing posts dedicated to one another on social media.