The Truth About Simone Biles And Aly Raisman's Relationship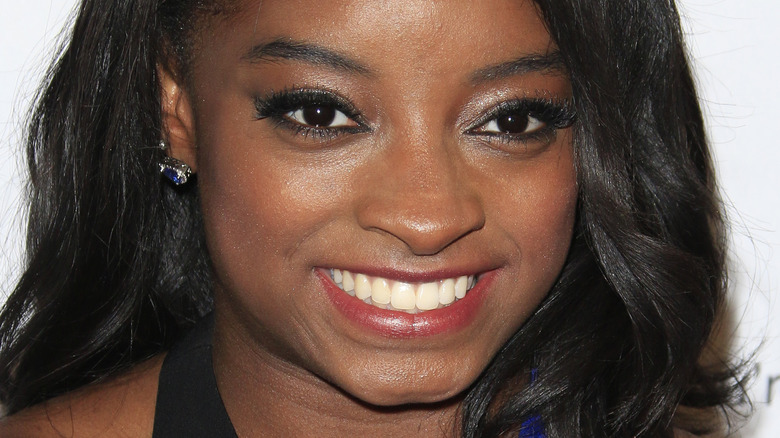 Shutterstock
Simone Biles' Tokyo Olympics 2020 journey began with a crowd-pleasing double-dismount at the trials and ended with her sad withdrawal from the games. Although USA Gymnastics spokesperson Carol Fabrizio told People on July 27 that Biles withdrew from the team finals competition "due to a medical issue," the gymnast blamed emotional toil. Speaking to Hoda Kotb on "TODAY," Biles said that, "Physically, I feel good. I'm in shape. Emotionally, it varies on the time and moment." She added that her and her support team "were just dealing with a couple of things internally."
Applauding her Olympic teammates, however, who went on to win silver after Biles pulled out, the athletic superstar told Kotb she was "frustrated but super proud of these girls... We hope America still loves us." America still does, with Biles receiving widespread support. "Gratitude and support are what @Simone_Biles deserves. Still the GOAT and we are all just lucky to be able to see her in action," tweeted White House Press Secretary Jen Psaki. Kotb herself chimed in that Biles was "a class act" on her Twitter account, claiming that Biles "already won" for cheering on her teammates after withdrawing. But did fellow Olympic gold medalist Aly Raisman agree with Biles' supporters? Read on for what the champ really thinks about Biles' withdrawal.
Aly Raisman is 'worried' for Simone Biles' mental well-being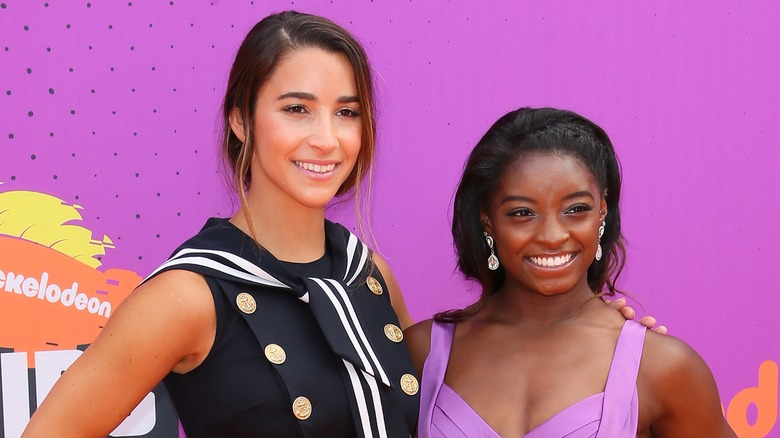 Jb Lacroix/Getty Images
Few people can empathize with the position Simone Biles found herself in, unexpectedly withdrawing from the women's gymnastics team finals at 2020's Tokyo Olympics — but Aly Raisman is one of them. A three-time Team USA Olympic gold medalist for gymnastics herself (in 2012 and 2016), Raisman told "TODAY" on July 27 that she felt "horrible" after hearing Biles pulled out after missing a vault landing. "It's horrible. I know that all of these athletes dream of this moment for their whole entire lives, and so I'm just completely devastated. I am obviously so worried and just hoping that Simone is OK," Raisman said.
As Biles' teammate at the 2016 Rio Games (per TODAY), Raisman shared their enduring bond with E! News in January, gushing, "I'm always in awe of Simone... I know she's working super hard," adding at the time, "We actually texted the other day so we definitely keep in touch. It's been awhile since we've seen each other, obviously, because of COVID, but I look forward to seeing her."
Via her "TODAY" appearance, Raisman advised others to take it easy on Biles. "I think people forget when we're doing gymnastics, the stuff we're doing is so difficult..." she shared. "Simone makes it look so easy, but I think people forget sometimes we're human."